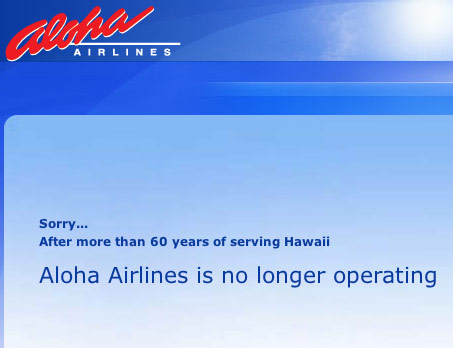 "Aloha Airlines Is No Longer Operating" was the message that appeared on the "people's airline" website today after serving Hawaii for 61 years. Flight 261 which touched down at Honolulu International Airport yesterday, was the final regularly scheduled passenger flight for Aloha.
"Those arriving at Honolulu Airport on the final flight were treated as returning heroes, as dozens of ramp workers waved and cheered when the Boeing 737-200 pulled up to the gate and all aboard received hugs and high-fives from the waiting crowd."
This comes after Aloha Airlines recently filed for bankruptcy.
More info:
http://www.alohaairlines.com
http://phpurl.com/81
http://phpurl.com/82