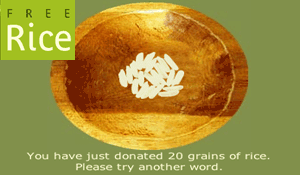 At 808Talk we're always looking for ways to "Spread The Aloha" such as supporting causes like The ONE Campaign and (RED). So once again we just happened to pull up another one for you, that won't cost you a thing (except a little time and brain power). It's called Free Rice and what it sets out to do is feed the hungry.
A friend of mine told me about it today and said you can test your vocabulary skills while helping to feed others so I just had to check it out. Turns out he was right! On top of that it was pretty addicting for me to challenge myself while seeing my bowl of rice being donated, fill up right before my eyes.
So the way it works is, visitors to the site are given a vocabulary challenge to answer. For every challenge the visitor gets right, 20 grains of rice are donated to the United Nations World Food Program. While it doesn't seem like a lot, just think of the amount donated after thousands of people participate (Current: 26,662,277,870). The donated rice it actually paid for by sponsors who will appear at the bottom of the page as visitors are being challenged.
Pretty cool idea if you ask me and another way to send some aloha to those in need. Check it out and tell a friend!
"For each word you get right, we donate 20 grains of rice through the UN World Food Program to help end hunger"
No Hoax: Free Rice Website Feeds the Hungry