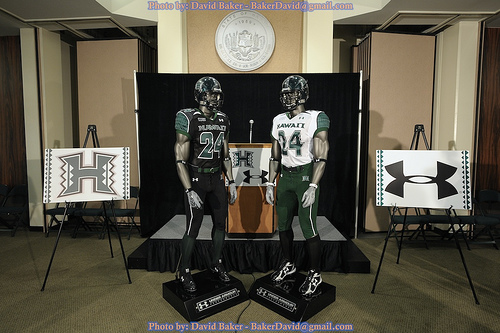 It was eight years ago that the University of Hawaii Football uniforms took their first drastic change from the old Rainbow "Bows" uniform and logo to the new "Warrior" look and logo which caused a little confusion among island residents after knowing the UH Football team and their rainbow image for 77 years. Back then it was intriguing to many, disconcerting to others and infuriating to at least one, but today with the unveiling of the new Under Armour designed uniform, many were excited and pleased with the new look which will further distinguished the Warriors as a force to be reckoned with.
Photo Credit: David Baker
"UH Unveils New Uniforms

With futuristic mannequins as models, the University of Hawaii unveiled a new look today.

The uniforms are part of a breakthrough eight-year, $4.1 million apparel and marketing deal with Under Armour announced in February.

The jersey tops were black and white with green short sleeves and dark-green trim.

The pants were black to match the black tops and green to go with the white top.

Both jerseys have "Hawaii" spelled out on the front with the Under Armour logo on the top left.

UH trumpeted the deal as putting it on par with many Bowl Championship Series schools."

Source: The Honolulu Advertiser
My Review:
After taking a look at these new uniforms and those of the past "Rainbow" football team I think the direction that the UH Athletics is going in is a good one. The colors are done nicely and the keeping of the bands on the shoulder was a nice touch, although I did notice it is no longer on the legs as before. Also from personal experience with Under Armour clothing, I'm sure the comfort level will be much better than with the predecessor. UH needs to keep that nice strong powerful look and Under Armour was the perfect match to do just that. I mean even the "H" logo and Under Armour logo go together right? Well as new head coach McMackin said "every team has it's own personality and this is the start of our personality." I totally agree with you Mac! If you look good out there, you feel good which ultimately pushes you to do better, so on to the new season with some new uniforms, new head coach and new lineup. LET'S GO WARRIORS!
Some Rainbow/Warrior Uniforms Over The Past Ten Years:
1996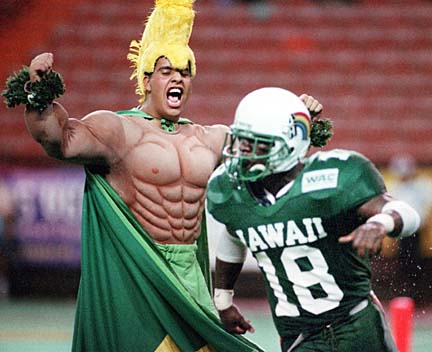 2000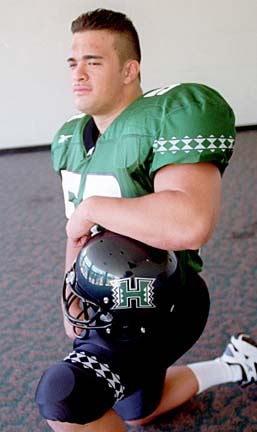 2006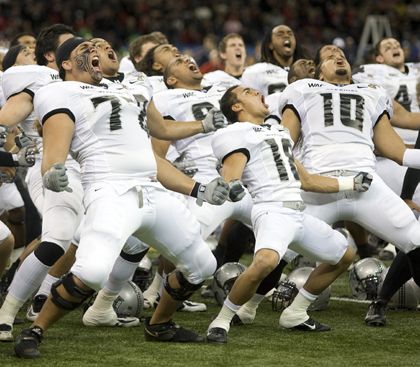 2007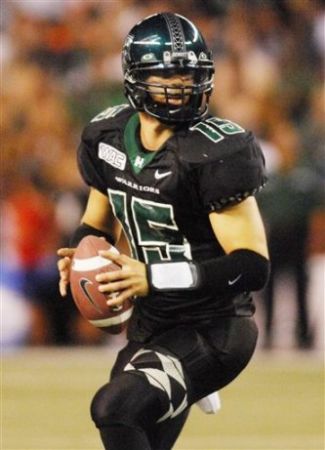 2008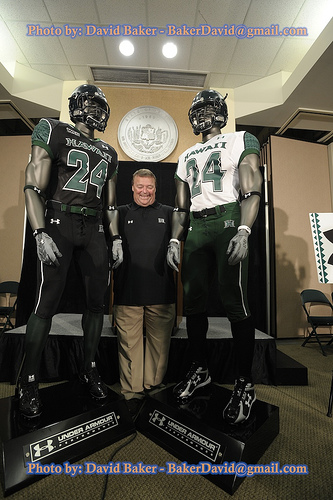 One last note, the new season is almost here so be sure and keep checking back for the latest Warrior updates as the season approaches.
For the most complete following of UH Football from a fans point of view, I highly recommend this great blog dedicated to the love and support of UH Football: http://uhfootball.blogspot.com