Jake Kongaika a.k.a. Cubworld is back in the islands again for a week of activities to further promote his music to island listeners. On Sunday he started it off with an appearance on the DoctorTrey.com podcast where he performed an on the spot EXCLUSIVE track he called "Feel The Breeze" and another track titled "Wise Words" which is from his album "Step Lightly Create Out Loud", an album that became a reality after Cubworld became the first ever U.S. based artist to reach the recording budget of $50,000 on SellaBand.com and step into his first "official" recording contract.
Other venues he has lined up for his week in Hawaii include an appearance on the world famous "Beach Walks with Rox", which he has appeared on in the past, the shooting of a music video in his home town of Laie-Hawaii, and then a concert at BYUH.
Now if you haven't yet heard his awesome tunes you can find them at several places including iTunes, SellaBand and CDBaby. If you live on Oahu or plan to be in town this Friday May 23rd, check him out LIVE at his concert at BYUH which kicks off at 7:30pm. For more info on Cubworld be sure and check out all the links below.
Oh and one last thing, he is also scheduled to appear on 808Talk…when you say? RIGHT NOW! Ha, ha, ha…your reading about him here on 808Talk right! Jake if your reading this thanks for creating some awesome tunes and hope you get to "Kick It In The Dressing Room" again someday soon! Aloha…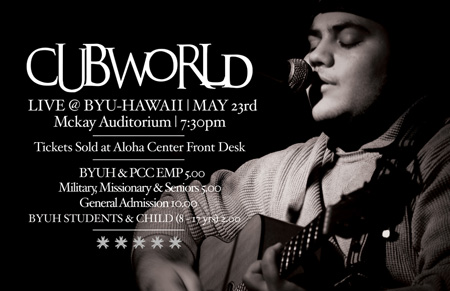 Links:
Jake Kongaika a.k.a. Cubworld
Cubworld on MySpace
Cubworld LIVE @ BYUH – Friday May 23rd, 2008