"After 9 years of service to the nation, Hawaii's souljah returns from the Middle East for his debut performance here on Maui!"
In early 1999, Joshua enlisted in the U.S. Air Force and served as a mail transportation manager where his job is strictly to ensure the deployed U.S and coalition troops receive mail, no matter where they are, to and from their loved ones back home. This unique occupation provided him a broad global experience and cultural understanding throughout the years having lived in Japan, Belgium, Italy, Kingdom of Bahrain, traveling to 26 countries and to include multiple deployments to Iraq.
Now after 9 years of service to the United States, Joshua returns to his home of Hawaii and brings with him sounds of freedom, love and tranquility. Having performed in the deserts of Iraq and on the stages in Italy, Joshua's sounds are truly soothing to the human soul no matter where he goes.
Come out and celebrate the return of one of Hawaii's true souljah's as he performs for the first time back in Hawaii on the island of Maui along side Honolulu's own "The Ionz" Roots Rocker Reggae. Show set for Friday, June 27th – 10pm @ Casanova in Makawao, Maui. 21 & over welcome.
Let's welcome home Joshua and show him the love and aloha that truly makes Hawaii the place to be!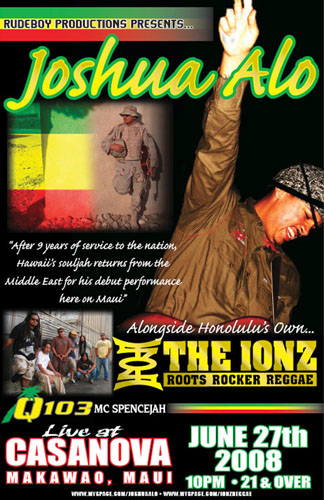 Featured song "Angel" from the album "Answer Your Calling"
Official Website & MySpace of Joshua Alo:
http://www.joshuaalo.com
http://www.myspace.com/joshuaalo
Download Event Flyer:
PDF or JPG