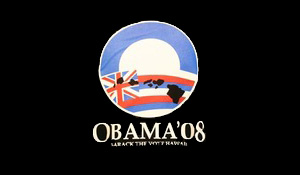 Residents of Hawaii are both excited and proud to see Barack Obama, the first ever Presidential candidate from Hawaii, appear on the fall ticket and are showing their Obama pride with new "Obama Wear" exclusive to Hawaii…well almost. You can get it online as well.
Obama clothing is being printed up right here in Hawaii by local Punahou alumni at Butigroove clothing, and features the Obama campaign logo with a Hawaii flag and map of the island state. Other varieties include an Obama face logo, a stamp logo with "Barack The Vote – Hawaii" on it, and another shirt with "I Love Obama" on it to turn anyone out there into an Obama Girl.
"People were asking for shirts, so we decided to do it," said BJ Sabate of Maui Bay and Buti Groove. Plans are in motion to give some of the special Obama mania clothing to the Obama family during their next return to Hawaii.
Get your own Hawaiian Style Barack Obama Wear by visiting the Butigroove online store at the links below.
Obama Wear from Butigroove