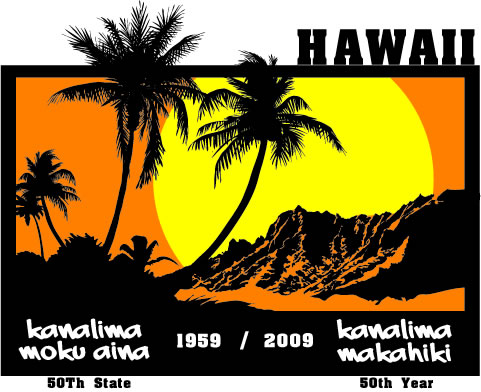 Honolulu, HI (PMW) – August 21, 2009 is the 50th anniversary of Hawaii statehood, and a perennial Hawaii tourist has created a line of specialty apparel to mark the occasion. The line is available in wholesale quantities at www.poolsidemarketingllc.com.
Designs feature a retro take on traditional Hawaii iconography, and are available on screen-printed t-shirts, embroidered golf shirts and (of course) Hawaiian shirts.
The line is aimed primarily at the millions of Mainland U.S. visitors who travel to Hawaii every year, "but of course we hope that Hawaii residents will also find something they like, to help mark Hawaii's 50th anniversary of Statehood," says Don Alfano, the clothing line's creator and founder of Poolside Marketing LLC.
Alfano is a resident of Carol Stream Illinois, but he and his extended family travel to the Aloha State at least once a year. "Hawaii means so much to me and my family," says Alfano. "My parents will be celebrating their own 50th anniversary in August of 2009, so the date is really special for all of us. On our last vacation in Hawaii, I wanted to pick up an Hawaii statehood anniversary gift of some kind for my parents, and I was amazed at how difficult was to find anything."
Frustrated by the lack of souvenirs commemorating Hawaii statehood, Alfano took matters into his own hands. His rough sketches have been transformed into a keepsake line of apparel that is now available for pre-order at www.poolsidemarketingllc.com. The wholesale site is aimed at souvenir retailers, gift shops, hotels, resorts, golf courses, restaurants and other tourism-related businesses. Screen-printed white t-shirts start at $7.20 each in quantities of 50.
"Each of the designs reminds me and my family of something we love about the Islands," says Alfano, "from the surfing, to the gorgeous scenery, to the amazing golf courses, and of course the wonderful people of Hawaii. Everything that draws us back to Hawaii year after year."
An extensive wholesale catalog of Hawaii Statehood-related apparel and accessories is available today at www.poolsidemarketingllc.com.