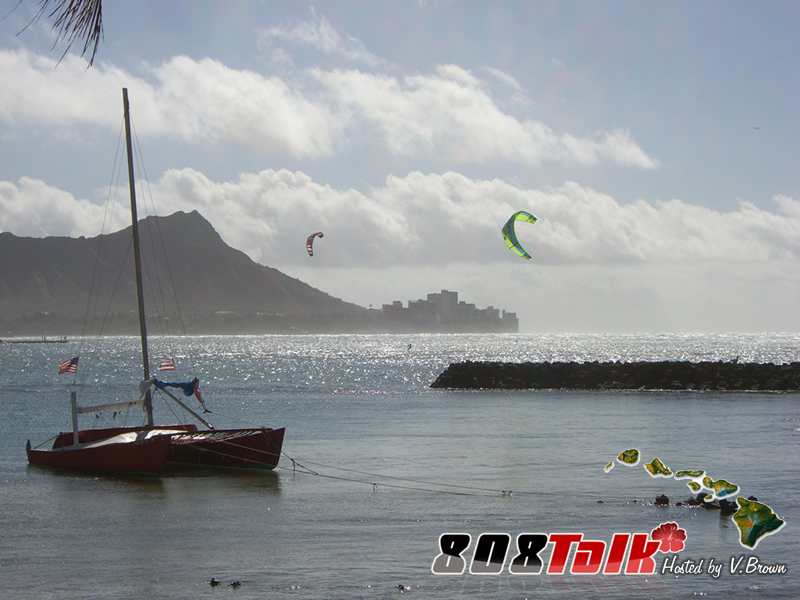 "Kitesurfing, also known as kiteboarding, involves using a power kite to pull a rider through the water on a small surfboard or a kiteboard (which is like a wakeboard). Generally kiteboarding refers to a style of riding known as free-style or wakestyle where as kitesurfing is more waveriding oriented. These two styles usually require different boards and specific performance kites.

A kitesurfer or kiteboarder uses a board with foot-straps or bindings, combined with the power of a large controllable kite to propel themself and the board across the water. The sport is still in its infancy, but is rapidly growing in popularity. In 2006, the number of kitesurfers has been estimated at around 150,000 to 210,000, with 114,465 inflatable kites sold that same year."
During the winter months and earlier part of each year the winds tend to pick up on the South Shore of Oahu in the Waikiki area. It's at this time of the year that you can find kite surfers having some fun mostly around the Duke Kahanamoku Lagoon and Beach which is near the Hilton Hawaii Village.
Video – 808Talk Hawaii: Waikiki Kite Surfing
Source: Wikipedia

Install Help:
Install On PC
Install On MAC
What Is My Monitor's Screen Resolution?