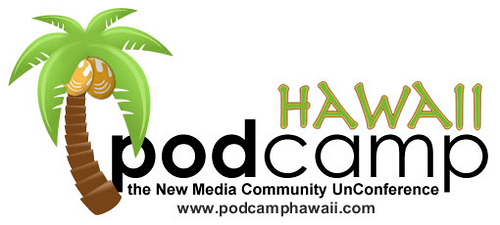 It's feels good to announce to our readers out there that Hawaii will be hosting it's very own podcamp, with a bonus wordcamp included, this fall right here in Honolulu at the Hawaii Convention Center.
Organized by an amazing team and local company Bare Feet Studios, Podcamp Hawaii 2008 is an unconference focusing on podcasting, blogging and new media in which companies and individuals come together to learn, share, discuss and network. Podcamps are not new and have been around for several years now and have gathered great interest and much success throughout the mainland and around the world, so it's only natural that Hawaii would eventually get hit by the podcamp bug.
The more popular podcamps have been those in major cities such as Boston, NYC, and Philadelphia, but that's only because Hawaii has yet to host one. Sure those are great cities and of course the podcamps were amazing, but imagine having a podcamp in one of the most beautiful places on earth. Imagine after a long day of meeting new people at Podcamp Hawaii, you then go out together for a night on the town, or maybe take a few hours in the afternoon to soak in some sun and ocean time. You might even get a chance to start mastering the art of surfing or climb Diamond Head, who knows! Point is that having a podcamp in Hawaii is not only needed to bring together the new media interest in the Pacific Rim region, but it's just a wonderful place to host it.
So if you're planning to visit us at Podcamp Hawaii, and I know you are, get yourself a Go Oahu card and then read our article on current Hawaii travel packages starting at $794 or visit our partner Expedia and book your trip today! We look forward to meeting both out of towners and kamaaina alike so see you soon at Podcamp Hawaii 2008.
P.S. Write this down as yet another great excuse to take that Hawaii getaway
Podcamp Hawaii 2008: http://2008.podcamphawaii.com
When & Where:
October 24-25, 2008
Hawaii Convention Center
1801 Kalakaua Ave
Honolulu, Hawaii 96815
Map & What's Nearby