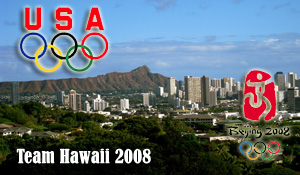 The US Olympic team is comprised of athletes from all across the United States and the world. Some have careers in other countries and some still remain within the United States. For those who may have wondered how many athletes on the USA Olympic team were products of Hawaii or had a connection to Hawaii, here's a quick run down of Team USA/Hawaii that is participating at the 2008 Summer Olympics in Beijing, China. Hope this fulfills your curiosity.

Olympians Born and/or Raised In Hawaii:
Robyn Ah Mow-Santos – Volleyball, Indoor
Lindsey Berg – Volleyball, Indoor
Brandon Brooks – Water Polo, Goalkeeper
Clarissa Chun – Wrestling, FR
Bryan Clay – Track and Field, Decathlon
Lovieanne Jung – Softball, Second Base
Natasha Kai – Soccer, Forward
Jesse Smith – Water Polo, Defender
Clayton Stanley – Volleyball, Indoor
Taylor Takata – Judo, 66 kg
Olympians From University of Hawaii:
Robyn Ah Mow-Santos – Volleyball, Indoor
Lindsey Berg – Volleyball, Indoor
Heather Bown – Volleyball, Indoor
Kim Willoughby – Volleyball, Indoor
"Hawaii also has ties to foreign teams. The Marshall Islands' first Olympic appearance will include Hawaii residents Anju Jason (tae kwon do) and Jared Heine (swimming). The Philippines' swimming team will include Hawaii residents Daniel Coakley and Christel Simms. UH softball players Justine Smethurst and Stacey Porter will be on Australia's team, former UH Wahine swimmer Melanie Schlanger will compete for Australia, and former UH All-Americans Iefke Van Belkum and Meike DeNooy will be on the Netherlands' water polo team."
- StarBulletin.com
Lastly let us not forget possibly the greatest Hawaii Olympian of all time, Duke Kahanamoku, who was named one of the 50 greatest Hawaii sports figures of the 20th Century. This week kicks off the 7th Annual Duke's OceanFest in Waikiki which celebrates the life and pays tribute to three-time Olympic Gold Medallist and Native Hawaiian Duke Paoa Kahanamoku, whose Olympic career spanned 20 years.
Watch Duke Kahanamoku on "This Is Your Life"
Duke Kahanamoku on "This Is Your Life" (part 1 of 3)
Duke Kahanamoku on "This Is Your Life" (part 2 of 3)
Duke Kahanamoku on "This Is Your Life" (part 3 of 3)

Olympian Duke Kahanamoku
"This Is Your Life" FULL EPISODE