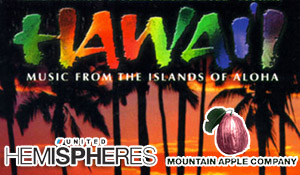 I just couldn't resist this awesome find featuring FREE downloadable Hawaiian music at the United Airlines Hemispheres website! It was brought to my attention by @Hawaii who passed it along from @NathanKam on Twitter…mahalo! Since Hawaiian music and the music from those artist in Hawaii is one of my deepest loves about Hawaii, I wanted to as they say, "pass it on" and share the aloha with my wonderful readers out there. Hope you enjoy and pass it on as well.
"Hawaiian music is alive and well—and this free, downloadable selection of great songs is yours courtesy of HEMISPHERES and Mountain Apple Records. This selection of songs showcases not only the poetry of traditional Hawaiian-language compositions ("Pua Lilia" for example, a treasured Island standard), but also the ability of Hawaiian music to reinterpret even English-language favorites. Check out the Cazimero Brothers' new recording of "Rainbow Connection" for a taste. You heard it first at hemispheresmagazine.com!
—Michael Keany"

Source: Hemispheres Magazine
Get Your FREE Hawaiian Music @ United Hemispheres Magazine
If you enjoyed the FREE music download from Hemisphere Magazine, then you might also be interested in the Hemisphere Magazine 3PD (3 Perfect Days) Oahu article and Oahu slideshow. Be sure and read more about beautiful Hawaii in the October 2008 issue of Hemisphere.