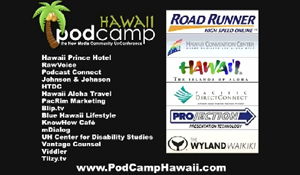 PodCamp Hawaii 2008 which includes a BONUS WordCamp, is almost here and YES there's still time to get registered and make those plans to join in on the greatest unconference in the world! Why do we say the greatest? Because it's in Hawaii silly! Duh! LOL…
Last weekend I had the opportunity to join several other local supporters who will be in attendance at PodCamp Hawaii, which by the way is being held at our state of the art convention center located in beautiful Honolulu. We all got together to shoot the 30 second commercial, which title sponsor Road Runner has agreed to air 300 times on local cable stations. YES 300 times! We also got a chance to view the wonderful section of the convention center which will host this MUST ATTEND event!
If you're a business, an individual or just wanna get in on some new media insight, then you should MUST attend this event. From learning how to set up your blog on the spot, to creating a podcast, to marketing and selling your products and services online using new media, this event will teach you all that and more. It's an open discussion with people who have been there and become successful in using new media and willing to share it all with you. Best thing is, it's absolutely FREE!
So head over to the PodCamp Hawaii website to learn more and check out some of the sponsors and the special travel offers that have been graciously created just for you, the PodCamp/WordCamp Hawaii attendee!
Stay informed on the latest news about PodCamp Hawaii by following @podcamphawaii on Twitter!
I'm going. See you there! ALOHA…