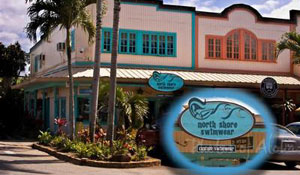 If you live in Hawaii, you also live in a bathing suit. For the ladies, that can mean 365-day-a-year Bikini Anxiety.
I'm your average gal with an average body and like most average girls, an ill-fitting two-piece makes me look ridiculous. Most bikinis are made for people who are perfectly symmetrical. So what does the gal with no toosh or a lot of junk in the trunk to do?
I went to North Shore Swimwear in Haleiwa and got a custom made bikini for my bod. It's just so much more comfy to have everything perfectly contained and exactly where it's supposed to be. I may not have the perfect body, but I feel a LOT better.
The locally-owned store can turn around a bikini in the style and fabric you want in 5 days, plenty quick enough for even a vacationer to take advantage of. And the fabrics are super cute.
It's a mix-and-match operation, so you can try on all sorts of top and bottom styles until you find the perfect set. I fell in love with a halter top, but the neck was long. So, for $5, they altered the suit. And that's a one-time fee, folks.
The two suits I bought (because I can't just have one, can I?) cost about $85 each. That seems steep until you realize that the $30 suits you buy only get worn for one season. It's like good shoes versus shoes from Payless. You get what you pay for.
For more info, visit http://www.northshoreswimwear.com