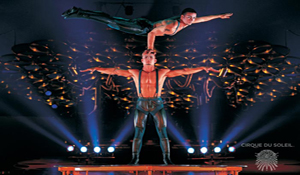 My mouth was hanging open in disbelief for most of "Saltimbanco," the Cirque du Soleil's traveling show. It's not often that a show leads me to say, more than once: "I was NOT expecting that!"
Imagine if you will, two muscle-bound men in tights and strange suspenders who look Eastern European. They do neat contortion tricks, they balance on each other, they are pretty amazing. So you clap, thinking: yeah, I've heard about this kind of stuff. It's pretty cool.
Then, Euro Dude #1 places his hand on top of Euro Dude #2′s head, levitates and balances himself there. On the guy's head. On one arm. Trust me, your mouth will drop open when you realize that there's some guy using his neck to support the weight of an entire human being.
Cirque is all about amazing things the human body can do. There are feats of strength, amazing airborne acrobatics and the beautiful art of the human body.
Take for example the trapeze acts, which consisted of lovely women dressed in airy costumes. They spin and glide through the air, narrowly avoiding one another, perfectly synchronized to ethereal music. What makes the scene even more compelling is that you find yourself on the edge of your seat, anxious about the danger but enthralled by the beauty of it all.
I could waste time here, explaining how the colors are so arresting and the music vacillates between a kind of 70′s camp and operatic solos. But I'll be honest: it's impossible to paint you a picture because you need all your senses to experience Saltimbanco.
Strength, beauty, humor and artistry come together for a show that appeals to absolutely everyone. At last night's show, I sat in a section that held old ladies, teenage couples, keiki with their parents and a few 20-something guys (notoriously hard to drag into classy shows like these). Everyone left smiling.
The biggest surprise to me was how much I enjoyed the comedy-relief pantomime. Even writing that makes it sound lame, and I'll admit, I didn't think I'd enjoy it. But the mime/clown executed a perfectly entertaining blend of slapstick humor and genuine surprises, using a member of the crowd to make it personal for all of the audience.
Go get your tickets now, because the show ends this weekend (Nov. 16). And a word to the wise: choose upper level seating if you can. Not only is it a great bird's eye view of the whole show, but you'll also avoid the audience participation. It's great fun to watch, but I imagine it's really embarrassing to have to do. You'll see what I mean.
For tickets, visit www.cirquedusoleil.com/saltimbanco. Twitter users can get a $20 discount on tickets; courtesy of @aloha_aina.