Q-Tip, the hip hop artist, singer, occasional actor and former member of "A Tribe Called Quest" from Queens, New York City is hittin up da 808 state for a FREE concert being brought to you by MySpace.com and AT&T.
The night is set for December 13th @ Pipeline Cafe in downtown Honolulu where Q-Tip will be joined by DJ Scratch from EPMD. This is one night you won't wanna miss and best of all, it's FREE.
Mark your calendar and come on out and chill the night away with Q-Tip, MySpace.com and AT&T. Limited tickets will be available at Dig Lifestyles (Ward Warehouse) on December 10th at 7 pm.
This is an 18+ event with doors opening at 10pm, so get there early!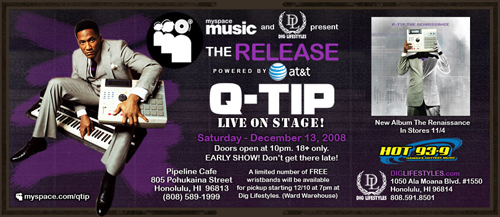 Q-Tip – The Renaissance