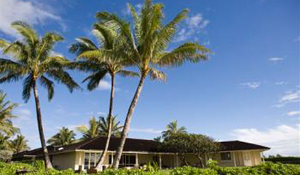 Hawaii is once again all abuzz with the upcoming first family back in town. The Obama's, who are scheduled for a 10 day holiday stay on Oahu, arrived this past Saturday by a charted United Airlines flight at Honolulu International Airport where they were greeted by a handful of reporters waiting to get that perfect shot and latest scoop from the new President-Elect.
"While on vacation in Hawaii, the Obama family is staying in a $9 million single-story oceanfront home in a laid-back neighborhood over the mountain from downtown Honolulu where the president-elect grew up.

The five-bedroom wood frame house sits on almost an acre of land fronting Kailua Beach, a favorite spot for windsurfers, kayakers and dogwalkers.

The white sand in front of the house is public land, just like all beaches under state law. The Obamas may see neighbors out for a walk or jog"

-AP
President-Elect Obama and his family last visited Hawaii in August of this year where they were seen enjoying shave ice in Kailua, visiting the USS Arizona Memorial, and hanging out at Sandy Beach, where Barack enjoyed some body surfing.
This trip is set to be more of a private retreat for the new first family as they prepare for the journey ahead to the White House.
There are no public appearances scheduled during this trip, but the Obama family does plan a private service for Madelyn Dunham, whom Barack called "Toot" after the Hawaiian word for grandparent, tutu.