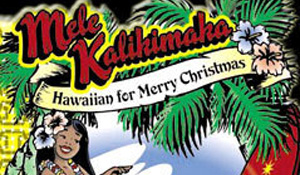 Aloha and Mele Kalikimaka or Merry Christmas!
On this joyous time of the year we wanted to wish each and everyone of our wonderful readers, listeners and viewers a very, very Merry Christmas!
During Christmas we experience much love and happiness and sometimes set aside the indifference's we have with each other so that we all may experience this wonderful season. I challenge you to not just save this all for Christmas day, but practice it each and everyday with the aloha that we share in the islands. In doing so, you'll find that the world can become a better place for all and that the aloha we share is contagious.
"When you see "Mele Kalikimaka," recognize that it is the Hawaiianized pronunciation of "Merry Christmas."

The Hawaiian language does not include all the sounds found in the English language (notably the letter R). Thus the familiar English phrase of "Merry Christmas" when pronounced using Hawaiian language syllables becomes "Mele Kalikimaka" (note the substitution of L's for R's).

"Mele Kalikimaka" is therefore not Hawaiian for "Merry Christmas," but simply a Hawaiian transliteration"
Enjoy these videos from us @808Talk and our good friend @DocTrey
Happy Holidays 2008
Merry Christmas-Dr. Trey performs O Holy Night on Ukulele
Mahalo to a few Twitter friends that sent XMAS shoutouts!
@AlohaArleen: http://vm.808talk.com/XMAS2008/AlohaArleen.mp3
@DocTrey: http://vm.808talk.com/XMAS2008/DocTrey.mp3
@ierict: http://vm.808talk.com/XMAS2008/ierict.mp3
You too can send us a shoutout or even a Happy New Year greeting!
Leave us a voicemail at: (808) 356-0967