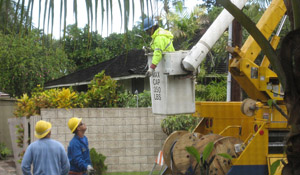 Well as you all have probably heard by now, last night was a pretty un-electric night. A night filled with a marvelous display of power in the skies and a lacking display of power in the hale. In short a complete blackout on the entire Hawaiian Island of Oahu.
Not since the earthquake of October 2006 has Oahu experience an island wide blackout which had many residents again asking "what went wrong" and "why are we experiencing an island wide blackout from just a lightening storm?" Luckily we have a wonderful group of Hawaii people who quickly took the reigns and started passing information from Hawaii Kai to Makakilo and from the North to the South of Oahu using the free service of Twitter.
People began tweeting away and quickly using up all the available power on laptops, cell phones and connecting via AirCards and EVDO to get news out about what was happening island wide. We even had our own established hash tag (#hipower) which was initiated by @hawaii at the prompting of @exbor. At one point the tag even trended at #1 on Twitter Search.
So here we are almost 24hrs later and most things are returning to normal. At last count, HECO reported that 282,000 out of the 293,000 customers on Oahu have had their power restored.
A few minor accidents were reported due to failed traffic lights and some grocery stores had to totally shutdown their produce, meat, and frozen food sections because all were considered spoiled. There has also been a call for water conservation, but for the most part it was just a pitch black night…lol.
Reports seem to reflect that Oahu residents are okay and that our President-Elect, who is vacationing in the islands, is also safe due to the wonderful work of the U.S. Secret Service.
So if you're curious about what went down throughout the night…check out the #hipower stream and follow along with the wonderful people of Hawaii from beginning to end. Aloha!