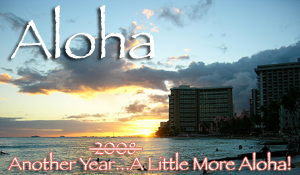 So here we are…at the end of that long journey of making it through another year! For the most part, 2008 has been a wonderful year. We said our goodbyes to some, enjoyed the celebration of new life with others and even had the opportunity to witness HISTORY in the making.
Now it's out with the old and in with the new and we hope you can say, just as much as we can, that it's time for a fresh new start and time to move on to bigger and better things in 2009.
At 808Talk we went through some struggles as 2008 kicked off. Early on we almost crashed and said goodbye to the love we have for sharing the aloha. This of course was when we announced that we were going to shut down and discontinue the podcast, which at the time was all we actually were, A PODCAST. Then it hit us! Why not continue this venture of love, cause God knows it's no money maker, and try to do the best in keeping it alive in whatever little bit of time we have available. And so thus the NEW 808Talk was born…one that offers more than just a podcast, more than just videos, but an insider look at things going on in Hawaii and the news, culture, music and movers and shakers in this great island paradise we call home.
So to all our readers, both new and old, and to those who have been with us from the very start, we say MAHALO for your continued support and interest. We promise to continue to give you things about Hawaii in every way that we can and in return we only ask that you try and tell just ONE person in 2009 about 808Talk.com and help us continue to spread the aloha throughout the world.
Head Automatica
Hau'oli Makahiki Hou
(Happy New Year)! We wish you only the best in 2009!
The top 10 articles of 2008 @808Talk
1. Blue Hawaii Big Wave Surfing
2. Hawaii Goes MRAZy For Jason Mraz
3. Start Or Stop Light Rail Transit In Honolulu…You Decide!
4. 2008 Olympics Artist Wyland Announces Grand Finale Mural
5. Japanese Obama Girls Visit Hawaii And Dance The Hula
6. Makana Different Game An Experience For All
7. Katchafire Coming To Aloha Bash 08
8. Native Hawaiians Take Iolani Palace
9. IZ's "Over the Rainbow" Version On American Idol
10. First Annual Hawaii MMA Sports & Fitness Expo
New Hawaii friends we connected with in 2008 and so should you!
And the music! Well so much you just have to check it all out for yourself
In Honolulu and still looking for a last minute NYE celebration to attend?