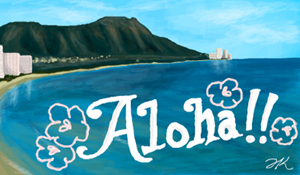 Aloha to 2009! I hope I can be one of the first to wish you a Happy New Year – Hau'oli Makahiki Hou – Akemashite Omedeto Gozaimasu!
Yesterday we FINALLY got rid of 2008 and stepped head first into what I KNOW will be a promising New Year! The many events of 08 were not all that wonderful, but the friends we made along the way were most excellent and for that we are thankful.
So now that we have stepped into 2009, what next? Well yesterday we sort of stumbled into the theme for the year and that is Aloha! What started off as a way to document the island happenings throughout the New Year Eve events actually turned into what we are going to call the Aloha09 Project! So what is the Aloha09 Project? Well it's a way to spread the Aloha and show the world what it's really all about and what Hawaii is all about. Sort of like our own engaging campaign to prove why Hawaii should be your place to visit and enjoy, because we have so much beauty, friendly people, and Aloha!
How can you get in on the Aloha09 Project? Simple! If you're on Twitter, then just hashtag any tweet of Aloha with #aloha09 so that it passes it on throughout Twitter. And if you're not on Twitter, then Join The Conversation! You can also help by tagging aloha09 on your blog or website during any post where you wish to spread the aloha. Sounds simple right? Because it is…and we aim to show the power of Hawaii and the aloha it brings.
You can follow along with the stream of #aloha09 or add @aloha09 on Twitter for starts. Then make it a goal to tweet at least one #aloha09 everyday and spread the joy. Special mahalo to @NathanKam for creating the hashtag and for all the people in Hawaii and around the world who participated in the NYE event which helped trend us to #2 on Twitter!
We hope your 2009 is a year to remember and most of all we hope you experience, enjoy, and spread the aloha around the world!
*UPDATE*
The Aloha09 Project now has it's own page: http://aloha09.808talk.com