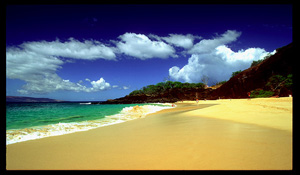 Hawaii's second-largest market for visitors – the San Francisco Bay Area – is going to see, hear, and experience the Islands of Aloha in March like never before in a new campaign led by the Hawaii Visitors and Convention Bureau (HVCB).
Under the theme Hawaii: A Thousand Reasons to Smile, HVCB – with support from its four Island Chapters, Hawaiian Airlines, and Starwood Hawaii – is launching a month-long promotion during March that will showcase the appeal of Hawaii's culture, natural beauty, and music to residents throughout the Bay Area.
John Monahan, HVCB's president and CEO, said the campaign goal is to get consumers longing for the restorative benefits of a Hawaii vacation – especially during these stressful times – and showing how affordable it is to visit the islands.
"Getting people to smile is a perfect antidote to the nation's dreary economic news," said John Monahan. "And nothing defines being happy, carefree and lighthearted as much as a Hawaii vacation. We're going to uplift spirits, recharge batteries and bring smiles back in a thousand ways starting with the great travel deals now being offered."
The HVCB campaign with its cheery slogan will be seen in print, broadcast and online advertising, digital freeway bulletin boards, in train stations and BART cars, on ad walls in popular settings, and in Bay Area TV shows, including The View From the Bay.
The campaign will direct consumers to visit GoHawaii.com/LotsofSmiles, a new HVCB microsite that will engage them with interactive promotions, offer information about Hawaii events in the Bay Area, and let them plan their vacation.
Travel trade activities in the market will also bring further Hawaii visibility to travel agents and wholesalers in the market via incentive promotions, sales calls, agent training seminars with key suppliers, e-marketing initiatives, and webinars.
At the same time, HVCB's public relations representatives will be hosting a kick-off event for more than 50 Bay Area media at the Fairmont San Francisco on Feb. 26 to seek consumer news coverage in various outlets. Honolulu Mayor Mufi Hannemann will be among the Hawaii delegation, which includes representatives from HVCB and its Island Chapters. Award-winning performer Willie K. and the Polynesian Cultural Center will provide entertainment.
To help keep the promotion fresh throughout the month, each week will focus on an island and accompanying theme that reflects its destination appeal, as follows:
March 1-7 Oahu – Town and Country
March 8-14 Kauai – 50 Years of Movies in Paradise
March 15-21 Maui – Romance Me Maui
March 22-28 Hawaii's Big Island – Unlimited Adventure
In the island-style tradition of "work over, hang loose", Hawaii's music, cuisine, and Aloha Spirit will also be showcased in Aloha Friday Pau Hana Concerts being held at Gordon Biersch restaurants in San Francisco, Palo Alto, and San Jose.
Each Friday in March, from 5-11 p.m., some of Hawaii's top entertainers will perform their musical magic, including Willie K., Raiatea Helm, Brother Noland, Mailani Makainai, Kealii Kanealii, John Cruz, Cyril Pahinui, and Taimane Gardner. Patrons will also enjoy a special menu of Hawaii-inspired cuisine and can win trips to the islands.
Additionally, on Friday, March 13, the Kauai Visitors Bureau is hosting a "Lucky Friday the 13th Kauai Celebration" from 11:30 a.m. – 1:30 p.m. at San Francisco's One Market Plaza. Attendees will be treated to music from Kauai's Nick Castillo and hula from Miss Garden Isle Noelani Kaui, while drawings are held for free Kauai trips and prizes featuring Kauai Made products.
"HVCB and its Island Chapters have created an enticing campaign that's attractive and in touch with the times," said Monahan. "We know from research that Bay Area residents have a strong affinity for our islands and we're confident our marketing efforts will convince them to return soon or visit for the first time."
Just a small taste of fun that Hawaii has to offer
24-Hours in Waikiki
For more information about Hawaii, the Islands of Aloha, visit GoHawaii.com.