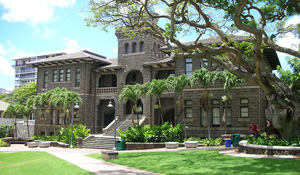 Charles Reed Bishop was a very prominent business figure on Oahu in the 1800′s. So much so that one evening Charles Reed Bishop returned home following work and announced to his wife, Princess Pauahi, that he was to be one of the new Board of Directors for the new Oahu College. This new college was to be built at the site of the springs at Ka Punahou (the New Spring). He further informed the Princess that this school was to be an all white school. Following their conversation the Princess thought, "wouldn't it be great to have a school for Hawaiians."
The Oahu College has since become the Punahou School. That is why the school insignia is represented with the O with the wings on the side, which refers back to its history as the Oahu College. At present the Punahou School is one of the top college prep schools in the Western United States. It is also the alma mater of the 44th President of the United States, Barack Obama.

The Punahou Carnival is one of many ongoing traditional
events that take place on campus annually.
Photo Credit: c_chan808
This Hawaiian History Moment Brought To You By:
Ohana Walking Tours with special thanks to Richard Wong

Learn more about Ohana Walking Tours by visiting them on the web.
http://www.ohanatours.org