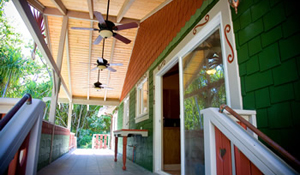 We all know that the economy and recession are hot topics in today's news, but what if in these hard times you could simply come out on top and win a beautiful home on the Big Island of Hawaii for just $101 and a few well thought out sentences. Think its a fantasy or an untouchable dream? Sheri and John think not!
Sheri Smith and John Williams, a couple from California, who now live in Hawaii, have come up with a unique, pro-active way to "sell" their one-of-a-kind 1,300 square-foot custom, never-before-lived-in home in a depressed real estate market – they are offering it as the GRAND PRIZE in an essay contest.
Smith and Williams, as WinHawaiianHome.com LLC, are sponsoring Essay 101, a contest of skill, where anyone (21 years old or older) can write a short essay (101 words or less) and, for a $101 entry fee, get a chance to win a brand new, custom built home on the Big Island of Hawaii.
The contest is open worldwide, however essays must be submitted in English, and must be the entrant's original work. 101 finalists will be chosen and then judged by community leaders.
The home (affectionately called the "Sweetheart Cottage" due to its many design details) was built by Williams, a local builder, with the goal of selling it immediately and using the proceeds to finish construction of his castle (CastleInHawaii.com), a future vacation rental or bed and breakfast.
Due to the recession, real estate sales are down and thus, this fun and exciting vehicle was created. Contest entries will be made online at WinHawaiianHome.com, although postal mail entries will also be accepted. Local schools in Puna to benefit by donation from the sponsor as well.
Essay 102 is also in the works (with two spectacular homes to choose from) and they hope to write an e-book to share their method with others to try to turn around the economy, one house at a time.
Oh and if you're a social networking guru, then you TOO can also win a lovely prize of a one week stay at "The Castle" just for telling others about this amazing contest!
Note: Contest deadline of May 1st, 2009 has been extended to August 11th, 2009
Contest Details
This is a contest of skill and will be judged by an impartial panel of judges picked from local community leaders. Your original essay must be 101 words or less. NO profanity, sexual or political rants – keep the writing within the bounds of good taste or your entry will be disqualified.
Subject
You may choose a subject from the following two:
Aloha:
What does Aloha mean to you? How do you share Aloha? How would you share Aloha if you won this home?
Mahalo:
What makes you feel thankful? Why would you be thankful to win this home? How would you show gratitude if you won this home?
If you don't live in Hawaii and these two words are not familiar to you – then this is a great chance to learn about the spirit of the islands.
Judging
All entries will be judged as follows:
Creativity 50%
Persuasiveness 30%
Grammar/English/Punctuation 20%
Each of the categories (creativity, persuasiveness, etc.) will be judged on a scale of one to ten, ten being best. Then the total score will be tallied and 101 finalists chosen.
Prizes
The Grand Prize is a never-before-lived-in, custom home nestled in an enchanted forest with singing frogs. The home is just a mile and a half from a secluded black sand beach which is home to a pod of dolphins.
Second prize is $10,000
Third prize is $5,000
For more details, see: Essay 101 Contest Details
Covered on local KGMB TV morning news show SUNRISE:
http://kgmb9.com/main/content/view/13118/108
WomenEntrepreneur.com: Couple Find Unique Way to Fund B&B
Follow Castle in Hawaii on Twitter: @castleinhawaii
Media Inquiries Only (714-253-3810)