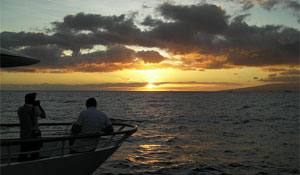 The "Navatek I" really delivers a unique dinner cruise experience unlike any other on Oahu.
Just a few days ago, I finally got the chance to experience the Royal Sunset Dinner Cruise on the Navatek I, which operates out of Pier 6 at Aloha Tower in Honolulu. This vessel is much different than most vessels out there and for those who tend to get seasick, this is a ride that you might just be able to handle. The vessel's unique design allows it to virtually glide across the water because it sits on two submerged hulls, which absorb most of the swell effect of the ocean. After this ride I can say that undoubtedly this is the smoothest dinner cruise I have been on, and I have now experienced them all on Oahu.
Now let's talk about the cruise experience, which I'm sure you are all anxious to hear about. The journey started off first with all the passengers taking pictures in front of a beautiful mural, which later was nicely packaged and presented to each group at the end of the dinner with the option to purchase (makes for a great souvenir). After that we boarded the Navatek I and were directed to the upper level for the Royal Sunset Dinner Cruise experience. Immediately after being seated our waitress greeted us with aloha, introduced herself, and asked for our drink orders. With the package you received three tickets per person, which are used in exchange for drinks from the menu. Shortly after the drinks arrived the food started coming out. First up was our shrimp appetizers and cocktail sauce, which were divine and quickly had me asking for more. At this point, we started to get underway and pull away from Pier 6 to commence the cruise out to sea. The overall setting was amazing and our view was just breathtaking as we slowly exited Honolulu harbor and immediately noticed the landmark Diamond Head off in the distance.
Next up on the food menu was the Royal Navatek salad. It was so wonderfully presented and more importantly it was delicious. By the way, the greens were from Waimanalo right here in Hawaii. It always makes me happy to see local businesses using local goods, and in this case local produce. Keep it local as we say in Hawaii. Next up was the main course, which consisted of full lobster and beef tenderloin with vegetables. First out was the lobster. As we dove into the main course, we were once again taken by the view. A sailboat alongside and Waikiki off in the distance made for an enjoyable and relaxing tone to set the mood. Guys this is definitely a win over for the ladies, wink. In between the lobster dish and tenderloin, a message was passed on from the Captain. The announcement stated that dolphins had been spotted off the bow (forward part of the vessel) and that the Captain would be slowing down so the guest could get a view. Everyone immediately rushed out to the forward deck to catch a glimpse of both adult and baby dolphins doing flips, twist, and all sorts of tricks for the guest. It was almost like the whole thing was planned, but honestly we just got lucky. It's not everyday, even in Hawaii, that you get to see dolphins just 50 feet from you doing some amazing things and putting on a show.
Dolphins Playing
Soon after the dolphin experience we headed back inside and finished off the main course. At this time, the entertainment was starting to get underway. Up until this point, a solo guitarist had provided music for our dinner, but now a group of Polynesian dancers were up on stage ready to give us a little taste of island style with the hula of Hawaii and the dances of Tahiti. They also managed to get some lucky guest from the crowd up on stage to join in on the fun as well.
With the entertainment only half way done, it was time to take a pause so everyone could gather out on deck to observe the sunset. It was a beautiful one, as always here in paradise, but for some reason it seemed to be so much more relaxing and romantic out on the water. Hard to explain, so I recommend you experience it yourself. To end off the night we returned back inside and found our dessert waiting. A delicious chocolate cake masterpiece with a nice refreshing cup of coffee, or hot tea for those who preferred it. Now one important thing to note is that the Navatek I dinner cruise is the only dinner cruise that goes beyond Diamond Head and gives you a brief look at the southeastern shores of Kahala and Maunalua Bay. All other dinner cruises do an immediate turn around just before Diamond Head.
Navatek I Slideshow
Some other highlights I wanted to mention was the wonderful courtesy and aloha expressed by all the staff we met on the cruise. From check-in till departure, it was superb service! I also wanted to extend congratulations to one couple on board. Right there in front of us all, a marriage proposal was made and she said YES! What better place than in Hawaii and out on the Pacific Ocean. For this lucky couple, the Navatek I will always be a lasting memory and for you it can be too.
For more information please visit: Atlantis Navatek Cruises Hawaii or give them a call at 1-800-548-6262