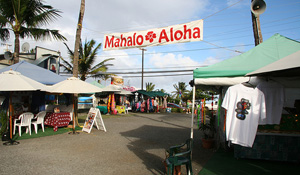 So a few days ago I had the honor of meeting John Holland on Twitter. This came about due to a tweet from Liza passing on information about a new project that he is working on called "Made in Hawaii." I quickly jumped on it because its something that is going to highlight and showcase the works of people right here in the islands!
Below is a little excerpt from what the project is all about.
I am going to be in Hana for 5 days. I plan on shopping when I arrive in Kahului and in Paia at Mana Foods. My goal is to buy only products made in Hawaii. I want to do this for 2 reasons:

I want to honor hardworking Hawaiian businesses by purchasing their products.
I want to sample the best of the Islands and purchase things that I couldn't easily find on the mainland.

- John Holland
To read more about the project visit John's page at http://bit.ly/3XCDoL and pass on to him any recommendations you may have. John is scheduled to arrive tomorrow, so send him your input quick!