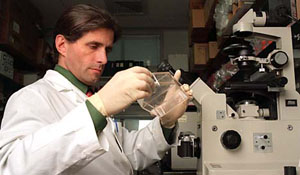 A leading mesothelioma researcher was approved as the new director of the Cancer Research Center of Hawaii by the University of Hawaii Board of Regents, a group of 15 board members who preside over the internal structure, management and operation of the university.
Michele Carbone, MD, PhD (Human Pathology), was approved as the new director and started on a three-year term on September 1, 2009. Dr. Carbone previously served as the interim director, a position he assumed upon the resignation of the previous director in December 2008.
Upon Dr. Carbone's appointment as interim director, University of Hawaii Manoa Chancellor Virginia S. Hinshaw was quoted saying, "Dr. Carbone, an internationally respected scientist, particularly in the area of mesothelioma, joined the Cancer Research Center in 2006 and has also been serving as Chairman of the Pathology Department at the John A. Burns School of Medicine. We very much appreciate his stepping forward to assume this leadership responsibility so that we keep moving forward with the development of the Cancer Research Center for the State of Hawaii."
Before working with the University of Hawaii in 2006, Dr. Carbone worked at the Loyola University Medical Center in Chicago, Illinois. Deemed an authority on malignant mesothelioma, a rare cancer related to asbestos exposure, Dr. Carbone and his team have comprehensively studied the impact of genetics, environmental carcinogens and viral infections on mesothelioma development and have subsequently worked to develop preventative and therapeutic treatments.
Dr. Carbone also received a $1 million grant from the American Cancer Society and, along with his team members, has received more than half of all federal funding for mesothelioma and approximately 90 percent of the National Cancer Institute's funding allocated for mesothelioma research.
Additional information about mesothelioma and mesothelioma research may be found through the Mesothelioma Center at Asbestos.com.