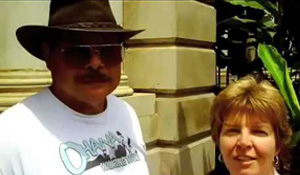 Did you know the Iolani Palace had electric lights and telephone service before the White House and Buckingham Palace? Are you interested in Hawaiian mythology? Looking for an interesting way to spend a weekend morning in Honolulu? If you would like to learn more about Honolulu history, check out the Ohana Walking Tours in downtown Honolulu Saturday and Sunday mornings from 9-11 AM. Ohana is the Hawaiian word for family and your whole gang can join in on these excursions.
Ohana Walking Tours invited our ohana to a Sunday morning jaunt with tour guide Richard Wong, a local expert on the olden days. Richard's family has lived in Honolulu for five generations. As a young history buff, Richard researched accounts of Honolulu, Oahu and surrounding islands. Over the years he has amassed a vast collection of antique glass bottles through excavation of abandoned buildings and demolished properties. As a Honolulu police officer he often had official access into government buildings and marveled at their splendor.
808Talk Checks Out Ohana Walking Tours
We began our two-hour tour at the famous golden Kamehameha Statue on King Street in downtown Honolulu just across from Iolani Palace. It was easy to identify our guide by the Ohana Walking Tours logo on his shirt. Richard began by telling us about his family's long history on the island of O'ahu. The tour covers Hawaii history from ancient mythology to current events. Richard covered many topics including:
Four major Gods of nature:
Captain Cook's celebrated landing on the islands and his ultimate demise
Key battles and unification of the islands
History of the Hawaiian monarchy and the only Royal Palace in the United States
Benefactors of Hawaii schools and State Library
Architectural insights
As amateur history buffs ourselves, we were impressed with the quantity and quality of information Richard shared with us. He is an articulate orator and storyteller who kept our attention throughout the tour. When I looked at my watch, it seemed hard to believe two hours had flown by. Richard related these tales to us without use of notes.
Ohana Walking Tours: Video Tutorial
Ohana Tours recommends you call to make advance reservations though if you find yourself downtown on Saturday or Sunday around 9AM, stop by the Kamehameha Statue and look for the tour guide. To make reservations or to learn more visit http://www.ohanatours.org.

About this guest blogger:
April M. Williams is a frequent visitor to Hawaii and a great friend of 808Talk.
Learn more about April by visiting her at the websites below.
LinkedIn http://www.linkedin.com/in/aprilmwilliams
Twitter http://twitter.com/AprilMWilliams
CyberLife Tutors Blog http://cyberlifetutors.com/blog.html
Personal Blog http://aprilmwilliams.wordpress.com