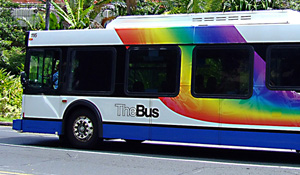 In my home town, urban sprawl has taken over. The closest shops, restaurants and services are over one mile away. I never see a bus in the area and the closest train is a 25 minute drive from home. One of the best features of Oahu is the accessible public transportation. The Oahu bus system is simply called "The Bus". Here are my top ten reasons for riding The Bus.
No parking fees. When you ride the bus, there is never a need to dig for quarters to fill the parking meters or pay garage parking prices. Daily parking fees range from $15-$25 in Waikiki.
No circling for open parking spots. The bus stops to let you out and you can walk right to your destination. No more driving around hoping someone pulls out so you can grab an open stall.
Enjoy the scenery. When you drive, you need to pay attention to other cars, street signs, pedestrians and bikers. During rush hour in Honolulu, some streets reverse the flow of traffic which can be confusing. While on the bus, you can take in blue skies, lush green mountains, ocean views and local architecture.
Relax on the bus. City driving is stressful but you can leave the driving to someone else. Let yourself unwind as you take in your surroundings.
Meet new people. We take advantage of our time with the locals on the bus. Looking for a place for dinner? Ask your fellow passengers for ideas.
Tour without backtracking. Take pleasure in a leisurely stroll going as far as you choose. No need to backtrack to find the car. Just jump on the bus for your return trip.
Easy to find your way. Why spend time driving around lost. Most hotels have directions for how to get around using the bus. System and route maps are available at http://www.thebus.org/Route/Routes.asp.
Best deal in town. For just $2.25 you can take a ride on the bus. Ask for a transfer and you can ride again for free within a two hour window. Four day, monthly, and annual pass rates are an even better deal.
Drink a toast. Enjoy an adult beverage or two without concerns about driving while intoxicated. Island police are serious about keeping the streets safe. If you have been drinking, it's better to leave the driving to The Bus.
Everyone is welcome. The Bus "kneels" for easier embarkation. Lifts aid riders who need assistance boarding. You can even take your bike on the racks mounted on the front of the bus.
Photo Credit: loveï½¥janine (geishabot) / CC by 2.0
Save time and money using the Oahu bus system. Friendly drivers are there to make your trip pleasant. The Bus system goes nearly everywhere on Oahu. You can find route information and maps available at http://www.thebus.org. For more information call The Bus (808) 848-4500.
About this guest blogger:
April M. Williams is a frequent visitor to Hawaii and a great friend of 808Talk.
Learn more about April by visiting her at the websites below.
LinkedIn http://www.linkedin.com/in/aprilmwilliams
Twitter http://twitter.com/AprilMWilliams
CyberLife Tutors Blog http://cyberlifetutors.com/blog.html
Personal Blog http://aprilmwilliams.wordpress.com