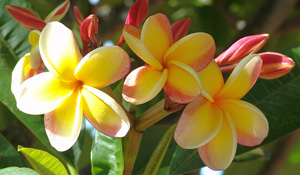 When we first traveled to Hawaii it felt a bit like we had landed in a foreign country. I found an appealing mix of languages, customs and terrains. On each return trip, the islands continue to grow on us.
The Chicago area, where I've lived most my life, is a melting pot of cultures. The Midwest is dramatically different from this scenic locale over four thousand miles from the place where I grew up. From the moment we boarded the plane for our first visit we heard "aloha" and "mahalo". Once we got off the plane in Honolulu we saw bilingual signs, though the second language was not Spanish as it would be at home. English, Japanese and sometimes Hawaiian was printed on these signs. I remembering standing in front of two restroom doors trying to decide if I was a "kane" (man) or "wahine" (woman) since I didn't recognize the words.
Oahu's population is a diverse mix of cultures in which no majority is represented. Japanese are the largest minority making up over 23% of the population. Other Asians are another 32% of the demographics. White, non-Hispanic are less than 18% of the total state residents.
Sometimes I'll ask others if they have traveled to Hawaii. A common response I hear is "No, I've never been outside the United States." Hawaii is a state and has been since 1959, though it has the exotic feel of another country.

Dancing The Hula
Photo Credit: (808Talk) / © All rights reserved
Locals actively promote the Hawaiian culture through dance, stories and music at shows free to the public. The dance is "hula" and you will often find the instrument of choice to be the ukulele. Mistakenly thought to be of Hawaiian origin by many, the ukulele was actually brought to the islands by Portuguese laborers many years ago.

Sunrise From Atop Haleakala in Maui, Hawaii
Photo Credit: (Dylan Parker) / CC by-sa 2.0
The climate in Hawaii is like no other place I have visited. In this tropic region, ocean, beaches, arid desert, rain forests, mountains and snow can all be found within a few hundred miles. The peaks, valleys and ridges of the mountains influence the weather resulting in different terrain throughout the islands. You can see the line of clouds as the rain hangs on the windward side of the mountains.
As a first time visitor to Hawaii, the languages, cultures and variety of terrain endeared me and enticed me to return. Like a siren, the islands keep calling me back for more adventures.
About this guest blogger:
April M. Williams is a frequent visitor to Hawaii and a great friend of 808Talk.
Learn more about April by visiting her at the websites below.
LinkedIn http://www.linkedin.com/in/aprilmwilliams
Twitter http://twitter.com/AprilMWilliams
Facebook http://www.facebook.com/AprilMWilliams
CyberLife Tutors Blog http://www.cyberlifetutors.com/blog.html
Personal Blog http://aprilmwilliams.wordpress.com