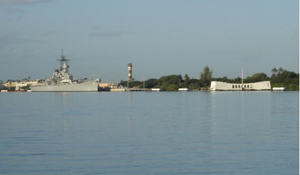 Hawaiian and United States history changed forever in the early morning hours of December 7, 1941 when Pearl Harbor was attacked.
While I read my history text books as a child and understood the events, I did not connect with the history of World War II. As with Pearl Harbor, the stories of our country's history did not come alive for me until I began traveling to historic sites.
On my first visit to Oahu, I toured Pearl Harbor's Arizona Memorial and Arizona Memorial Museum. As we waited for tickets early in the morning, we were greeted by one of the Pearl Harbor survivors. Here was a veteran committed to educating younger generations on the lessons of our past. His warm welcome to visitors and dedication to our understanding of Pearl's history was evident.
Years later I brought my children to the Arizona Memorial. As they toured the site and viewed the exhibits in the Visitor Center, I could see they did not feel connected to the events represented there. We rode the boat across the harbor to the Arizona Memorial perched atop the sunken ship and I realized they did not understand the enormity of the tragedy that had occurred at the site. The story of December 7, 1941 did not come alive for them as it had for me.
In contrast, they lived through the time of the September 11, 2001 terrorist attacks in New York City, Arlington, Virginia and Shanksville, Pennsylvania. My youngest son watched the scenes unfold in real-time on live television. Their visit to Ground Zero in New York hit them right between the eyes, bringing back vivid memories of the attack.
There are parallels between these two defining moments in our history. Both were surprise attacks occurring on United States soil and led our country into war. Loss of life was great with 2,402 casualties in Pearl Harbor and 2,976 in the east coast attack.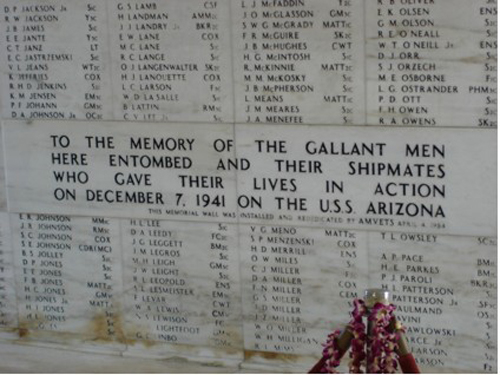 U.S.S. Arizona Memorial Wall
Photo Credit: Noel F. Williams
There are also differences. In 1941, the attack was on a military installation while civilians were the major focus of the 2001 attacks. The government of the country of Japan invaded Hawaii while on September 11 we were attacked by terrorists. The Pearl Harbor attack happened in a concentrated geographic area while three cities were hit during the 9/11 attacks.
How do we keep Pearl Harbor's history alive for future generations? The number of Pearl Harbor survivors is dwindling and each year it becomes more difficult for the aging veterans to travel to Hawaii. In 2006, a final Hawaii Reunion was held for Pearl Harbor Veterans with over 400 survivors in attendance.
A handful of survivors from the Pearl Harbor attack regularly meet with visitors at the center, so if your trip to Oahu includes a tour of the U.S.S. Arizona Memorial, look for these volunteers who are doing their part to keep history alive for us.
I was fortunate to meet a survivor of these attacks during my last visit and captured our discussion on video. Herbert Weatherwax volunteers at the center three days a week and shares his stories as he talks with visitors at the Memorial. You can hear "Uncle Herby" tell his story here.
Read more about the Pearl Harbor Survivors:
USS Arizona Memorial: Pearl Harbor Survivor Stories
Pearl Harbor Survivors Project: Recordings and Written Recollections
About this guest blogger:
April M. Williams is a frequent visitor to Hawaii and a great friend of 808Talk.
Learn more about April by visiting her at the websites below.
LinkedIn http://www.linkedin.com/in/aprilmwilliams
Twitter http://twitter.com/AprilMWilliams
Facebook http://www.facebook.com/AprilMWilliams
CyberLife Tutors Blog http://www.cyberlifetutors.com/blog.html
Personal Blog http://aprilmwilliams.wordpress.com