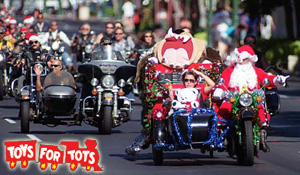 Over 6,500 members and friends of Street Bikers United Hawaii showed their support for the Marines Toys for Tots program on Sunday December 6, 2009. The annual parade began at Magic Island, wound through Waikiki ending at Kapiolani Community College. The event resulted in 4,000 new toys and $2,000 cash to brighten the holidays for children.
2009 Honolulu Toys for Tots Parade
Participants arrived from Oahu, other Hawaiian islands and even from other countries to join in this ride. A wide variety of dress could be found in this hour long parade. All types of clothing could be found from leather and chains, club vests and shirts to holiday red outfits with white fur trim. Santa, Mrs. Claus and the Grinch were on hand as was parade official, Honolulu Mayor Mufi Hannemann.
About this guest blogger:
April M. Williams is a frequent visitor to Hawaii and a great friend of 808Talk.
Learn more about April by visiting her at the websites below.
LinkedIn http://www.linkedin.com/in/aprilmwilliams
Twitter http://twitter.com/AprilMWilliams
Facebook http://www.facebook.com/AprilMWilliams
CyberLife Tutors Blog http://www.cyberlifetutors.com/blog.html
Personal Blog http://aprilmwilliams.wordpress.com