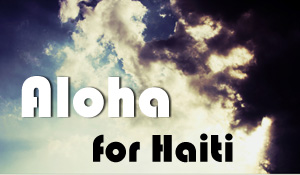 As most of you already know, last Tuesday an earthquake measuring 7.0 in magnitude struck just six miles southwest of the crowded and largely poor capital city of Port-au-Prince in Haiti. This comes to a country already succumb to extreme poverty and a recent devastation in the 2008 hurricane season that brought four storms – Fay, Gustav, Hanna, and Ike – which dumped heavy rains on the impoverished nation. The substandard housing and lack of infrastructure has only made things worse and to date the Red Cross is estimating 45,000 to 50,000 people have been killed with an estimated 3 million Haitians being affected by the earthquake. Worries continue to mount about food and water for survivors and what to do in the continued aftermath to sustain life and prevent an outbreak of disease.
Photo Credit: (ClickFlashPhotos / Nicki Varkevisser) / CC BY 2.0
In Hawaii we live with the giving spirit of aloha to extend compassion, generosity and love to all humanity. In this crisis, the people of Hawaii are standing together to continue to carry out the aloha of the islands to the people of Haiti.
"The people of Hawai'i have been following the news of the devastating disaster in Haiti with great interest and have been generously donating towards the relief effort. The U.S. government has sent thousands of military personnel and tons of aid, including supplies and volunteers. As always, our residents have reached deep into their hearts and pocketbooks to contribute to those Haitians who need immediate aid.

The State of Hawai'i stands with the people of Haiti during this time of crisis and we pledge our long-term support. I urge everyone to continue donating to the American Red Cross and other relief agencies. I also ask the people of Hawai'i to keep the Haitians in their thoughts and prayers during this very difficult time."

- Hawaii Governor Linda Lingle

Source: Hawaii.gov
Below is the listed information on how you can help whether you are in Hawaii or other parts of the world. If you've ever listened to one our podcast you will know that I always end the show with the words "continue to spread the aloha no matter where you are in your part of the world" and today I am asking that again of everyone reading this post. I thank you all for your continued support and love that you extend in your daily life and now it's time for all of us to unite and come together to share aloha with our fellow citizens of the world residing in Haiti. I thank you in advance for your love and compassion.
Clinton Bush Haiti Fund PSA
People of Hawaii:
Hawaii Red Cross
Ph: 808-739-8109
Mail: Send checks payable to American Red Cross, 4155 Diamond Head Road, Honolulu, HI 96816 and specify "Haiti Relief" in the comments.
People of the World:
Mobile: Text the word "QUAKE" to 20222 to donate $10 to the Clinton Bush Haiti Fund.
Online: Donate through the Clinton Bush Haiti Fund