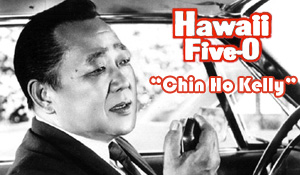 The recent DVD release of the long running Hawaii Five-O television series has sparked continued rumors of a remake or feature movie which in the past week seems to have become a reality with the signing of "LOST" star Daniel Dae Kim. The original series was filmed on location in Hawaii, and ran from 1968 to 1980. Each hour-long episode featured the fictitious Hawaii State Police team solving crimes in Oahu and neighboring islands. The name Five-O comes from Hawaii's status as the fiftieth state.
The popular opening theme song and views of the spectacular pipeline wave are easily recognized by fans. When the criminals are nabbed, the show often closed with the famous line "Book 'em." The DVD release has spiked renewed interest in Hawaii.
The tropical Hawaiian setting was a backdrop for crime sprees, interrogations and investigation. Waikiki and Kailua Beach were favorite locales for shooting action scenes. Car chases and street scenes were usually filmed in gritty Chinatown. The Iolani Palace in Honolulu, the only official state residence of royalty in the United States, became the offices of the Five-O team. The cast was often shown rushing down the grand koa wood stairway to protect the citizens from crime. Outside the team's office, you can see the distinctive State Capital building. Hawaii is one of only eleven state capitols in the United States to not have an external dome. (The others are Alaska, Delaware, Louisiana, New Mexico, New York, North Dakota, Ohio, Oregon, Tennessee and Virginia.)
The series' main characters were played by actors Jack Lord, James MacArthur, Kam Fong Chun and Gilbert Lani Kauhi "Zulu." While a revival show may eventually happen, bringing the original cast together again is not possible. Zulu's ashes were reportedly scattered along Waikiki Beach while Jack Lord's ashes were placed on the beach near his home on Kahala Beach. Kam Fong is buried at Diamond Head Memorial Park (SEC. DEV.34-C) in Honolulu, where we recently paid our respects.
Diamond Head Memorial Park (Book 'em Chin Ho!)
Fong, of Chinese ancestry, was born in Kalihi, Honolulu, Hawaii on May 27, 1918, and died October 18, 2002. Adversity played a part in Fong's life. He watched a younger brother burn to death in a freak painting accident. Fong was at home when two B-24 military planes collided over his house, the burning wreckage killing his first wife and two children. He was employed at Pearl Harbor and began his shift just as the attack on December 7, 1941 began, watching the USS Arizona burn.
After retiring from the Honolulu police force and before joining the television series, Fong was a disc jockey, real estate agent, talent agent, actor and ran for Hawaii governor in 1989.
With his 16-year career as a Honolulu police officer, he was a natural in his role as Detective Chin Ho Kelly from 1968-1978. His television character was named after Chin Ho, who founded the famous Ilikai Hotel in Waikiki, often used for location sequences. The opening scene with Jack Lord standing on the penthouse balcony was filmed there. The hotel's aqua blue trim is easy to recognize in episodes.
While best known for his Hawaii Five-O portrayal of Chin Ho Kelly, Fong was a sought after character actor. According to IMDB.com, his movie credits include "Gidget Goes Hawaiian," "Goodbye Paradise", "Ghost of the China Sea," "Seven Women from Hell," "Cry for Happy" and "Diamond Head."
Interest in Hawaii Five-O continues as the show reaches new audiences through syndication and the recent DVD release. A different cast of characters could breathe new life into the show and hook a next generation of viewers. Tourists may view the tropical location and this would increase interest in Hawaii as a vacation destination.
About this guest blogger:
April M. Williams is a frequent visitor to Hawaii and a great friend of 808Talk.
Learn more about April by visiting her at the websites below.
LinkedIn http://www.linkedin.com/in/aprilmwilliams
Twitter http://twitter.com/AprilMWilliams
Facebook http://www.facebook.com/AprilMWilliams
CyberLife Tutors Blog http://www.cyberlifetutors.com/blog.html
Personal Blog http://aprilmwilliams.wordpress.com