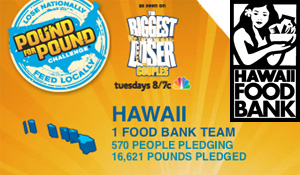 Hawaii Foodbank Is Stepping Up To The Challenge!
Like every food bank across the country, Hawaii Foodbank, a member of the Feeding America network, is working harder every day to assist individuals and their families right here in the islands in these tough economic times. It's a daily challenge, and we are always looking for new ways to meet it head on.
A proven fundraising program has partnered with NBC's The Biggest Loser, General Mills, Subway, 24 Hour Fitness and Walgreens to encourage people to "Lose Nationally, Feed Locally" and the Foodbank needs your support to make our involvement a success!
Pound for Pound Challenge on the Biggest Loser
Participating is easy and your impact can be huge.
Simply sign up and pledge your weight loss goals at www.pfpchallenge.com/hi. For every pound you pledge, the Pound for Pound Challenge will donate 14 cents to Hawaii Foodbank. In addition, if you Tweet, Facebook and Blog this to everyone you know, you can propel the Hawaii Foodbank to one of the top 10 Food Banks that will get a $10,000 bonus. That's 25,000 meals and you can make this happen. Sign-up at pfpchallenge.com/hi and then pass it on, PLEASE!
It's a great opportunity for our friends to do something good for themselves and do something good for our community.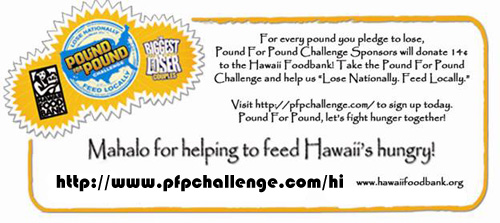 To learn more about the Pound For Pound Challenge, you can visit the national website at pfpchallenge.com or e-mail megan [at] hawaiifoodbank.org.