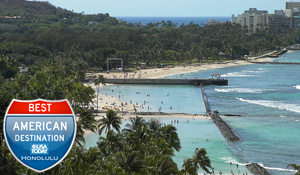 An announcement from a recent poll of USA Today readers has singled out Honolulu as the "Best American Destination" beating out Yellowstone National Park in the final face-off where the destination captured 77% of the final votes. This is coming as a delight to both residents and tourism folks throughout the state and brings much more needed attention to the islands as a place to look at for a tropical travel destination right here within the United States.
It's true that Honolulu may be a major metropolis now with tall buildings and a busy downtown business district, but it's the beaches, fresh air, warm weather and most of all the culture and people that make it so much different from any other place. On top of all this, once you get to Honolulu, the major arrival point, you can always venture out to places like my favorite island of Kauai which is only a 30-40 minute island hop away.
So what are you waiting for? Why not start planning a visit to Honolulu or one of many other locations in the islands and enjoy the relaxing atmosphere that is uniquely Hawaii.
FREE Island Travel Guides: http://travel.808talk.com
Featured Sponsors:
Assisted Living Hawaii & Pearl Harbor Memorial
Check out some of these great travel offers today!
Hawaii Summer Deals – 3 nights with air from $459 and 4 and 5 nights for just a bit more! (http://808t.in/1fm).
Calling all LOST fans – a chance to stay at Manoa Valley Inn in Honolulu where three scenes of Lost were filmed and where the film crew stayed for nearly two weeks. Current special going on rooms from $85 per night includes breakfast, parking, access to pool, and beautiful views. (http://808t.in/1fn).
Stay in Hilo, Hawaii just minutes from the beach starting at just $79 a night at Hawaii Paradise Suite. Luxury B&B Special for just $119 per night for a couple. Enjoy native Hawaiian gardens, a lovely pool with outdoor stereo system, and a full service entertainment area featuring a karaoke machine! (http://808t.in/1fo).