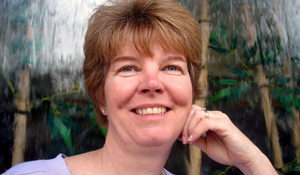 We turned the tables on 808Talk author and regular Hawaii visitor April M. Williams to ask about her Hawaiian adventures and her new book "Social Networking Throughout Your Career."
808Talk: You frequently visit Hawaii. What are your favorite things to do when you are on island?
AMW: We look forward to our visits and are always anxious to get back to the islands. Through the years, we have made many friends and enjoy spending time with them. There are always a few tweetups or meetups where we can visit with Twitter friends. Each trip is filled with a combination of favorite activities like walking around Diamond Head and shopping at the Kapi'olani Farmers Market. Being early risers, we get out in the morning for sunrise walks. Each stay includes dining at different restaurants recommended by friends, hiking and sight seeing.
808Talk: Your 808Talk articles are about things you see and do here in Hawaii. This time, tell us about you.
AMW: I am a speaker, author, coach and blogger. I am an author of two blogs in addition to writing for 808Talk and other web sites. My company, Cyberlife Tutors, helps small businesses build their visibility by leveraging social networking technologies and techniques. The companies I've worked with operate in various sectors such as food service, legal, finance and tourism. My clients are what make my work so interesting. My philosophy is that connections build awareness for your company and expand your business.
808Talk: What tips would you suggest for someone planning a first time visit to Hawaii?
AMW: Each island has it's own personality and will appeal to different people. Plan your destination based on the type of vacation you enjoy. Oahu, where Honolulu the state capital is located, is a big city with tall buildings, traffic and nightlife. The North Shore area is more laid back and the big waves attract many surfers in winter. If you are looking for a more relaxed pace, consider Maui or the Big Island. Lush with vegetation, Kauai is known for hiking and scenery.
808Talk: What are your off the beaten path recommendation for tourists to see or do?
AMW: If you enjoy a variety of dining options, check out the many ethnic restaurants in the Kapahulu neighborhood. For garden enthusiasts, the newly renovated cactus garden in front of Kapi'olani Community College is an interesting stop. For hiking, check out Manoa Falls or Mariners Ridge trails for awesome scenery. Walk up Diamond Head or take the non-typical walk around the base of Diamond Head for breathtaking views of the Pacific Ocean.
808Talk: What history do you wish to share with us about the islands?
AMW: We met survivors of the December 7, 1941 attack on Pearl Harbor and it is important to document their story. There are few left to tell their perspective. Hawaiian Royalty governed the islands for many years and the 'Iolani Palace and Queen Emma's Summer Palace preserves their legacy. Of course, there is the geological history of the islands themselves you can see when you visit Volcanoes National Park or Haleakala.
808Talk: Have you learned about Hawaiian history while geocaching in Hawaii?
AMW: Geocaching is treasure hunting with a GPS receiver to locate items at specific coordinates. By following these clues we have uncovered all kinds of off the beaten path places. There are many caches or hidden locations in Hawaii and throughout the world. With this hobby, we learned about local culture, famous sites and people in history.
808Talk: Do you use The Bus when you are visiting Oahu?
AMW: The Bus service covers virtually all of Oahu and the coverage is especially good in Honolulu. A ride is an immersion in culture as tourists and locals intermingle on these trips. The drivers are usually helpful so do not be afraid to ask questions. It is not unusual for us to get a couple of restaurant recommendations during these rides. For a couple of bucks you get a ride and your transfer gets you a return trip for free.
808Talk: You seem to meet new people everywhere you go. How did your current book, "Social Networking Throughout Your Career" come about?
AMW: This book is a result of questions asked by my clients. There is both marketing your business and also marketing of yourself. This book shows you how to develop an effective strategy and stay with it throughout one's career and not just when one is unemployed. Too many of us stop the practice of networking once we land a job thinking that it is no longer necessary. This book tells you why the care and feeding of your network is so important.
808Talk: Where can readers get a copy of your book "Social Networking Throughout Your Career?"
AMW: My book "Social Networking Throughout Your Career" is available on Amazon.com.
808Talk: You are a sought after speaker for conferences, professional groups and training sessions. How can a reader contact you for more information?
AMW: Readers can call me at (414) 502-7745 or email me at april@cyberlifetutors.com. Please say "hello" and introduce yourself if we meetup when we are in Hawaii. Suggestions from readers on new places to visit are always welcome.
You can read more of April's 808Talk articles at http://www.808talk.com/author/amwilliams
About April M. Williams:
April M. Williams is a frequent visitor to Hawaii and a great friend of 808Talk. She is also the author of the book "Social Networking Throughout Your Career", available in paperback and on the Kindle.
Learn more about April by visiting her at the websites below.
LinkedIn http://www.linkedin.com/in/aprilmwilliams
Twitter http://twitter.com/AprilMWilliams
Facebook http://www.facebook.com/AprilMWilliams
CyberLife Tutors Blog http://www.cyberlifetutors.com/blog.html
Personal Blog http://aprilmwilliams.wordpress.com