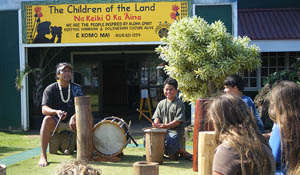 For decades people have come from afar to share in the laid back, happy vibes of the islands and what many may not realize is that Traditional Hawaiian Culture is on the endangered list and it will take great focus, passion, teaching, love and respect to keep it alive.
Children Of The Land aka Na Keiki O Ka Aina is going above and beyond to keep the Hawaiian culture alive. Children Of The Land is a 501c-3 non-profit dedicated to preserving the Aloha Spirit. Children Of The Land is the only Polynesian Cultural Center on Kauai. It was started by Phil Villatora, a traditional Polynesian craftsman and teacher. Phil's vision was to create a space where children and families could have a place to learn and share in the "Spirit of Aloha" and the Polynesian culture. Through his own awareness and understanding of Aloha, living in harmony with the land and traditional ways, he founded the center so that all children of the land could learn and share Aloha with future generations.
The center is FREE and open to everyone. Feel free to stop by and take a tour around. You'll find amazing traditional artifacts, exhibits and information. The center also offers a healthy variety of free or almost free classes for seekers of all ages and ethnic backgrounds. Some classes include Tahitian Drumming, Samoan Fire-knife, Ukulele, Hawaiian Language and Dance, Hula, Tahitian Dance, Lomi Lomi Massage, Nose flute, Hawaiian Medicinals, Tapa Making, Coconut Oil Making, Poi making and the making of other traditional foods. Children Of The Land strives to share with youth and their families the opportunity to participate freely regardless of income in a wide range of music, dance, drumming, language and traditional Polynesian cultural crafts and wisdom.
The Children of the Land hosted the Kings, Queens and Chiefs of the islands and tribes of the Pacific nations on Kauai for the first meeting of the Royal Union of Pacific Nations this week. Royalty from all over Polynesia came as guests in support of the center and the hope it brings for the future.
The Children of The Land
A complete listing of classes, events and information can be found by visiting their website at TheChildrenofTheLand.com.
Children of The Land is located at the Kauai Village Shopping Center/Safeway Center 4-831 Kuhio Hwy #332 Kapaa, HI 96746. For Class Schedules call Erica at (808) 821-1234. If you want to donate to the center or you just want to get involved contact Phil Villatora, Center Director, (808) 652-3714.