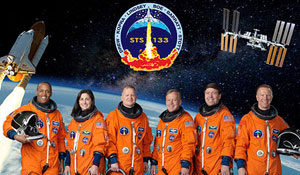 Yes, you read it right. NASA may be taking Israel Kamakawiwo'ole into space starting November 2010. NASA will be launching Discovery on the STS-133 mission. During the mission the crew members will do a variety of tasks including providing critical spare components to the International Space-station. This will be the 35th shuttle mission to the station. The STS-133 crew members this time around are Commander Steven Lindsey, Pilot Eric Boe and Mission Specialists Alvin Drew, Michael Barratt, Tim Kopra and Nicole Stott. (photo credit: NASA)
So what does this have to do with Bruddah Iz? Each morning the crew members are awaken with a pre-selected song to start their day. For this mission NASA has compiled a list of all the the wake up songs and communications to the shuttle crew from the Mission Control Center during past missions and has asked the public to vote on the song they should use for this mission. Bruddah Iz has made the list. Should he get the most votes he'll be sweetly singing Over The Rainbow each and every morning for the crew members.
NASA has set up a page for this project where you can vote for the song you think they should use for mission STS-133. You can also stop by just to check in on who is in the lead. Voting will close on Nov.1, 2010 but you can still drop by the web-page and see who won. So far there are 1,737,414 Total Votes with, believe it or not, the Star Trek Theme Song in the lead with 27.1 of the votes. The song list contains 40 songs and Bruddah Iz is currently in 5th place with Magic Carpet Ride, Blue Sky, and Countdown by Rush ahead of him in the poles. Some of the song selections I found to be great picks and some just down right odd. Could you imagine rising every morning to Enter Sandman by Metallica? I am sure starting your day with the sounds and presence of Aloha is the way to go, even in space.
If you are interested in having your say, you can easily do so, it takes about 20 seconds, here: https://songcontest.nasa.gov/top40.aspx