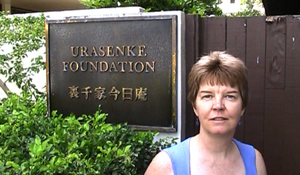 Tucked away, on a quiet side street in bustling Waikiki (Honolulu) is a serene garden where visitors can experience an authentic Japanese tea ceremony. We are interested in Japanese culture and heard there was a location in Waikiki to participate in a tea ceremony. It took some detective work to find the Urasenke Foundation. There is a small sign on the gate; I had walked past it past dozens of times without noticing it was there. Here students learn about and demonstrate the traditions of the formal tea ceremony. Twice a week, locals and tourists are encouraged to visit the school and participate in the tea ceremony.
On our recent visit to the center, we were greeted in a front office and asked to make a small donation to the center. We felt awkward as we sat alone watching a 20-minute overview of tea ceremony practices and etiquette on a 27″ television. In the video, we learned the traditional tea ceremony lasts about four hours and wondered what we had signed up for.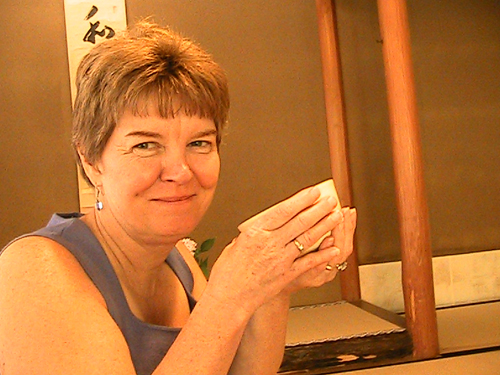 April enjoying the tea. (photo credit: Noel F. Williams)
Soon after the video ended, a woman in a bright print kimono entered the room and led us outdoors through the silent garden. She was to be our guide throughout the next two hours. We learned we would experience the shorter, thin tea ceremony, which lasts about an hour. Our guide silently slid open the white opaque screen to the traditional tea room. Before entering, we removed our shoes, as requested, so as to protect the bamboo mats covering the floor. We struggled to kneel as directed at the invisible line the guide drew on the mat with her finger.
We learned our guide was a founding member of the Honolulu Urasenke Foundation and has been a student for over 50 years. When I asked how long it takes to learn the ways of the Japanese tea ceremony, she assured me that it is a continuous journey, and she continues to learn.
Two other students in colorful summer kimonos entered the room through a rear door. Their roles were "host" and "guest" for tea, explained our guide. During our visit, both these women remained silent as was explained during the earlier video. We greeted each other with deep bows. Our guide narrated and coached us in our actions and answered our questions.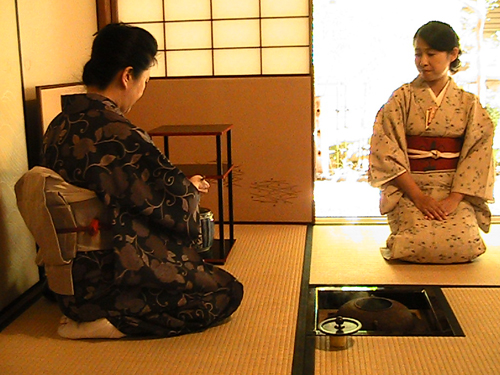 Host in black kimono and a guest (student) in white kimono. (photo credit: Noel F. Williams)
Making the thin tea is an elaborate process with each cup individually prepared and served to guests. Each precise movement is executed gracefully as our host ladles boiling water into the cup from a caldron inset into the floor. Next, she scoops the finely ground tea from the elaborate container using a long handled wooden spoon. A miniature bamboo whisk is used to create a frothy, thin tea. To show our appreciation, we placed the teacup in our palm, turning the cup to admire the artistry before drinking the bitter tea.
A plate of delicate cookies decorated with ginkgo tree leaf designs was offered to each guest. After tea and cookies, our host passed the decorated tea holder and spoons she had specially selected for our visit. Before guests arrive, the host carefully chose cups, spoons and plates to reflect the season and those attending. As appreciative guests, we followed the suggestions of our guide as we took a few moments to study and admire each of these items before passing them to the next guest.
We are studying Japanese and during our visit, we spoke several simple phases we know. The Urasenke students encouraged our attempts to communicate in their language.
I recommend a visit to the Urasenke Foundation for those interested in learning about Japanese culture. This activity requires sitting still and quietly for about two hours and very hot tea therefore may not be suitable for active children.
You can visit the Urasenke Foundation in Waikiki.
245 Saratoga Road
Honolulu, HI 96815-1942

Map
(808) 923-3059
About this guest blogger:
April M. Williams is a frequent visitor to Hawaii and a great friend of 808Talk. She is also the author of the book "Social Networking Throughout Your Career", available in paperback and on the Kindle.
Learn more about April by visiting her at the websites below.
LinkedIn http://www.linkedin.com/in/aprilmwilliams
Twitter http://twitter.com/AprilMWilliams
Facebook http://www.facebook.com/AprilMWilliams
CyberLife Tutors Blog http://www.cyberlifetutors.com/blog/
Personal Blog http://aprilmwilliams.wordpress.com