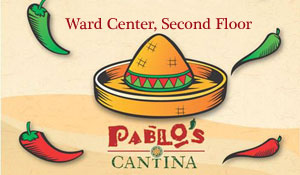 In advance of its grand opening in late October, Pablo's Cantina invites the public to take a sneak peek at and taste of Hawaii's newest restaurant, while raising funds for three local charities. From October 8 through 21, the authentic Mexican restaurant will donate a portion of proceeds from diners' meals to Make-A-Wish Foundation, Catholic Charities Hawaii and the Hawaii Polo Club.
"Giving back to the community is an important part of our business philosophy," said Steve Hamile, principal owner of Pablo's Cantina. "These three organizations do so much for our Island home and we're pleased to support their continued efforts."
On Thursdays from 5 – 9 p.m., 50 percent of the proceeds will go toward each designated charity; 10 percent will be donated on all other days and times. Specific dates include:
· October 8-10 and 12 and 13: Make-A-Wish Foundation
· October 14-17 and 19 and 20: Catholic Charities Hawaii
· October 21: Hawaii Polo Club
During the sneak preview events, guests will make selections from a limited menu of authentic Mexican cuisine from various regions of the country, including street style tacos al pastor, Sonora enchiladas and carnitas, a Jalisco favorite. The restaurant also features over 40 premium and top-shelf tequilas and creates its signature drinks with fresh, house-made mixes.
About Pablo's Cantina
Pablo's Cantina is a full-service casual dining restaurant featuring fresh, authentic Mexican cuisine and handcrafted cocktails in a casita-inspired setting. Open daily from 11 a.m. to midnight, the restaurant is perfect for large parties, business meetings, intimate dinners, outdoor dining and late night cervesas y sangritas. For more information, call (808) 591-8307 or visit www.Facebook.com/PablosCantinaHonolulu.