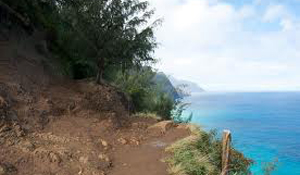 Most people that know anything about Kauai know about the Kalalau trail. Backpacker magazine has placed it on the 10 most dangerous hikes list but that does little to discourage the hundreds of hikers, amateur to professional, that set out to conquer the 11 mile journey into Kalalau Valley. The trail complete with switch-backs and sheer drops to the ocean 300 feet from a barren footpath only a few feet wide in parts is also a stunningly beautiful experience and the reason it has become such an attraction.
Very few permits are given for people to stay in the Kalalau Valley and campers have to get these permits at least 6 months in advance. This does not seem to matter to the many people who illegally hike the trail and stay in the valley on an ongoing basis. Many people believe it is really no big deal but the truth is, heavy traffic is taking it's toll on the trail and the people living in the valley may indeed be threatening the very place they love.
Kalalau Valley is owned and cared for by the state of Hawaii and is rich in Hawaiian history. Long ago many native Hawaiians lived in the valley, farming taro on terraced fields and hill-sides. Today, the state park forbids any one from residing there. The state also contracts workers to come in and do maintenance on the trail and in the valley. The latest trail and valley maintenance started in September 2010. The workers spending days at a time out on the trail doing dangerous and extremely exhausting work to make a better and safer environment for the hikers and campers who come to visit.
Illegal visitors and campers not only come in by trail but also by kayak. The rangers do frequent the valley to check for permits but they are obviously not able to find everyone who is living there. The residents and long term vacationers are not living as a tribe or self-sustaining community, but rather importing the daily modern amenities they want to enjoy. The state has tried with best efforts to keep people from living in the valley but the workers have found proof that these efforts are not paying off.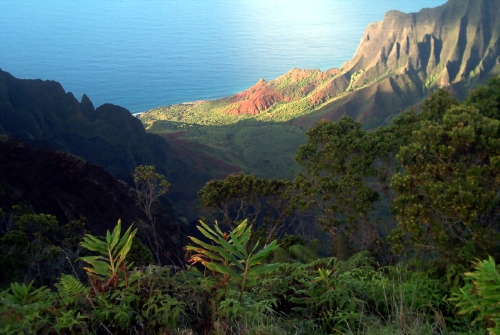 Kalalau Valley Lookout
The most recent work crews have found that people are leaving an enormous amount of trash behind. They found everything from food wrappings, beer bottles and cans to blue tarps, broken camp stoves and tents, completely abandoned camps used for permanent residents, blankets, food and much more. The amount of trash left in the valley poses threat to the natural flora and beauty of the secluded and majestic atmosphere of the location. Workers are making an effort to clean out the discarded and disregarded mess left behind. The state is also looking at innovative ways to better control illegal camping in the valley.
For more information about Kalalau Valley and permits required visit the Hawaii State Parks website: http://808t.in/20n