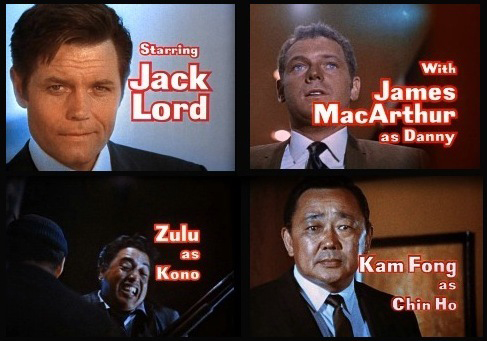 Part one of a three part series examining Hawaii Five-0 now and then (H50NAT): People. Hawaii Five-0 was a popular television show that aired on the CBS network from 1968 to 1980 and now is in syndication. Filmed in Hawaii, the show was based on the fictional state police force known as Hawaii Five-0. The team name is a reference to Hawaii's admission to the union as the fiftieth state, joining the United States in August of 1959.
Jack Lord starred in Hawaii Five-0 as Steve McGarrett, head of the Hawaii State Police. It is rumored that fellow cast and crew members called Jack "The Lord" due to his insistence on perfection, involvement in all aspects of the show and refusal to fraternize with others as noted in this TV Guide story from 1971. He was particular about his trademark pompadour hairstyle and stylish suits.
Lord continued to live in Hawaii and passed away there in 1998. As I watched the pilot episode of the rebooted Hawaii Five-0 television show, I pondered what Jack Lord would have thought of the new production.
The reboot stays true to the original show by reviving the famous theme song and pipeline wave logo, though in an updated way. Both series highlight the gritty parts of Hawaii which visitor bureaus do not want tourists to see. The reboot characters enter the show more developed and with their own baggage providing storylines for future shows. The director, writers and actors give a nod to the original cast while making the show their own. Lord was set on being the sole star of the show rather than sharing the limelight.
The People
Both the original show and the reboot focus on four central characters. In both versions Steve McGarrett heads the team. Interaction between McGarrett and characters Danny Williams, Chin Ho Kelly and Kono Kalakaua are very different in the reboot. In the original, McGarrett ran things by the book and directed his team's actions. A team member would say, "Look Steve, I found this gun." McGarrett would run over and order his staff to, "Get the gun to the lab and have them check for fingerprints." It seemed, even after twelve years, the team could not take any actions without McGarrett's explicit direction. The team looked up to McGarrett and would never consider making a move without his permission. The reboot series reflect our society's transition away from the autocratic, top down management style where authority is often challenged and we see contention in the ranks. Lord would have quickly squelched any challenge to his authority.
The original Five-0 team always wore suits to the office. McGarrett could be counted on to wear blue or grey ventless suits despite being outside in 90 degree temperatures. The rest of the team took turns wearing brown, grey, maroon, green and even plaid suits. The current reboot team wears t-shirts and jeans except for Danny. This hold out wears a dress shirt and tie even when chasing the bad guys along the beach despite the grief that McGarrett gives him.
In the reboot, Alex O'Loughlin as Steve McGarrett plays a rogue cop with a personal vendetta against the bad guys who killed his father. Co-star Scott Caan (Danny Williams) reluctantly joins the team and challenges McGarrett at every opportunity. In the pilot reboot episode, Danny punches McGarrett in the mouth. The original Danny never argued, challenged or confronted McGarrett. After all the years of leading the team, Jack Lord may have been relieved to see the team become more self directed and display initiative.
The original Danny enjoyed living in Hawaii and spending time outdoors. He was a bachelor who appeared to work around the clock and had no outside interests. Rebooted Danny is new to Hawaii, following his ex-wife, who has physical custody of their young daughter, so he can have visitation. He hates when McGarrett says "Book 'em, Danno" and cannot wait to get off this rock. Lord would be riled as this reboot Danny character steals the show.
In the original series, Chin Ho Kelly often took a backseat in many episodes with little screen time. In one episode, we were introduced Chin's family and know he has ties to the Chinese underworld that run the dark side of town. McGarrett would often send Chin into Chinatown to pick up scuttlebutt or spread information. The reboot Chin, played by LOST's Daniel Dae Kim freely speaks his mind and takes action based on experience gained through years as a cop. He was recently removed from the police force for misdeeds he denies doing. McGarrett believes Chin is honest though he knows other cops will resist working with them due to this blot on Chin's record. Lord would likely try to tone down this character as Chin competes for screen time.
Reboot Chin brings his beautiful cousin onto the Hawaii Five-0 team. Grace Park as a bikini wearing, surfing Kono Kalakaua is brand new to the police force. This characterization is a departure from the original Kono character played by the formidable Zulu. Park goes undercover as a cocktail waitress in an early episode, which of course Zulu would never have been able to pull off. In Lord's day, there were few professional women on the show. They were relegated to roles as admins, beach babes or wealthy socialites. As an "abide by the rules" kind of guy, I imagine Lord would follow all current employment laws and quotas.
The four main reboot characters each play a dominant role in the episodes aired to date. Unlike the original show, team members each offer their talents and knowledge rather than requiring constant direction from McGarrett. Over time, the original show's cast grew and featured recurring support characters including the Hawaii State Governor, forensic technicians, coroner, and other police officers. To date, these characters, except for the Governor, have not been included in the reboot show. Famous actors gladly flew to Hawaii for guest roles as the original show became more popular. The Hawaiian set is likely to draw today's celebrities for guest appearances in the same manner. Would Lord be worried about being upstaged?
For those who cannot get enough Hawaii Five-0 discussion, visit Mike Quigley's Hawaii Five-0 trivia and oddities page or follow Mike on Twitter. Mike also maintains links to other Hawaii Five-0 sites on his Hawaii Five-0 FAQ page.
To be continued…check back here on 808Talk for the second part of this special three parts series on Hawaii Five-0 now and then.
View my entire "Hawaii Five-0: Now and Then" series at tag: H50NAT
About this guest blogger:
April M. Williams is a frequent visitor to Hawaii and a great friend of 808Talk. She is also the author of the book "Social Networking Throughout Your Career", available in paperback and on the Kindle.
Learn more about April by visiting her at the websites below.
LinkedIn http://www.linkedin.com/in/aprilmwilliams
Twitter http://twitter.com/AprilMWilliams
Facebook http://www.facebook.com/AprilMWilliams
CyberLife Tutors Blog http://www.cyberlifetutors.com/blog/
Personal Blog http://aprilmwilliams.wordpress.com