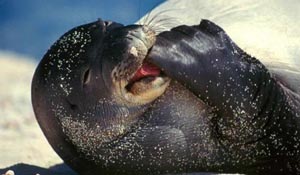 Hawaiian Monk Seals are among the most endangered creatures on earth. They are one of only two mammals endemic to Hawaii, the second being a species of bat. Often referred to as "living fossils", they have remained relatively unchanged for over 15 million years.
The Hawaiian archipelago, stretching from the big island of Hawai'i northwestward past Midway Island, is the primary terrestrial habitat of the Hawaiian Monk Seal (HMS). Nearly 90% of them live around the tiny, uninhabited islands and atolls in the upper reaches of the chain. For approximately 35-40 seals, the waters and beaches of Kauai are home. Some of these seals regularly swim between islands and others are only seen on Kauai.
On Kauai a group of residents joined together to create the Kauai Monk Seal Watch Program. There motto is E ho'olaulima makou I malama 'ilio o ke kai "We must cooperate to take care of our monk seals."
Each time a monk seal is resting on the shore it is roped off with signs included and a member of the program arrives to make sure the monk seal is not disturbed and to answer any questions spectators may have. Kauai Monk Seal Watch Program also helps if anyone sees or hears of a seal caught in debris (i.e. discarded netting, rope, plastic trash), they will contact governmental authorities and get to the area as soon as possible to see what can be done. They also identify a seal by tags, markings, or scars, and pass that information on to their coordinator. A combination of beach counts, air sightings, and specifically identified seals allows experts to estimate population.
Kauai Monk Seal Watch Program (KMSWP) has developed numerous outreach projects, most of which are ongoing. All of them are designed to involve our resident or visitor community, or both, in protecting endangered Hawaiian Monk Seals (HMS).
In April 2001, KMSWP volunteers began visiting public school classrooms islandwide to present an hour-long program about Hawaiian Monk Seals. At the completion of the tenth (2010) school season, they have provided over 10,000 students with the KMSWP educational program. The success of the annual education effort has exceeded everyone's expectations.
While hanging out with a member while they are protecting the sleeping seals from possible injury, one will soon learn how much the members love these seals. Each seal has a name and they know which seal is related to whom in many cases. It's a unique and memorable experience to be a part of something so wonderful and to learn so much about an endangered species while on a simple outing to the beach.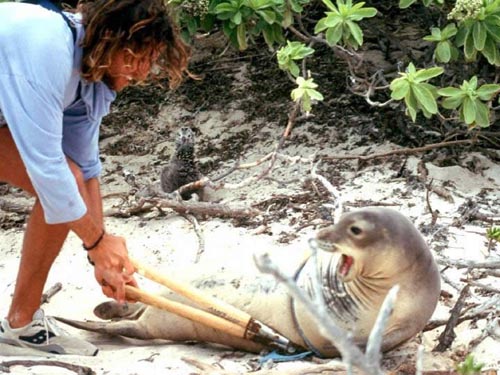 A volunteer works to free a monk seal entangled in marine debris
KMSWP is an entirely volunteer organization sponsored by generous donors. One hundred percent of this money directly funds their projects. If you would like to support KMSWP you may visit them at their site: http://www.kauaimonkseal.com/Support.html for full details.
Photo Credit: KMSWP