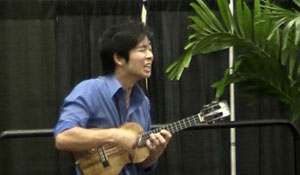 Hawaii's own Jake Shimabukuro is back home in Honolulu this week for three performances for the Honolulu Marathon. We talked to Jake after he played a set at the Marathon Expo. Listen in as Jake talks about growing up in Hawaii and his new CD "Peace Love Ukulele". Jake's new album, "Peace Love Ukulele" debuts in January with a CD release party at DFS Galleria in Waikiki.
A Moment With Jake Shimabukuro
(Feature Photo Credit: Noel F. Williams)
About this guest blogger:
April M. Williams is a frequent visitor to Hawaii and a great friend of 808Talk. She is also the author of the book "Social Networking Throughout Your Career", available in paperback and on the Kindle.
Learn more about April by visiting her at the websites below.
LinkedIn http://www.linkedin.com/in/aprilmwilliams
Twitter http://twitter.com/AprilMWilliams
Facebook http://www.facebook.com/AprilMWilliams
CyberLife Tutors Blog http://www.cyberlifetutors.com/blog/
Travel Blog http://www.aprilmwilliams.com