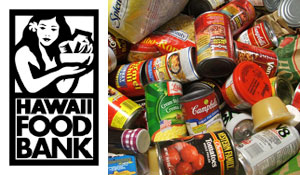 Huddle to Fight Hunger, a contest sponsored by Kraft Foods, will pay the Hawaii Foodbank $10,000 just by getting Hawaii into the top 10. You can make a big difference in the lives of local families. We only need 2,500 more people to join the Huddle to Fight Hunger.
Help needy families in Hawaii today, by signing up at http://www.huddletofighthunger.com. All you have to do is enter your Hawaii zip code to give a FREE meal. You can sign up more than once if you have multiple emails
Kraft Foods' Huddle to Fight Hunger program is designed to reach the goal of giving away 20 million meals to Feeding America. The Hawaii Foodbank is a certified member of Feeding America, the national food bank network. The program runs till January 9th, 2011 and encompasses many ways for consumers to get involved. For all components of the program, the monetary equivalent of meals will be donated by Kraft Foods.
Pass this on to everyone you know and help feed Hawaii's hungry!
Share on Twitter and Facebook too!
P.S. To help get more meals for the Hawaii Foodbank text "Meals 96819″ to 71717