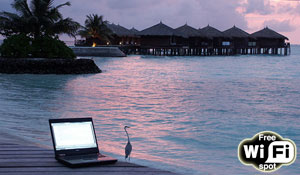 I often get asked the question: Where are the FREE WiFi places in Hawaii? While this question can be a hard one to keep up with, primarily because the FREE hot spots change from time to time, I still hope that with this post I'll be able to direct attention to the various places where visitors and residents alike can search out and discover the FREE WiFi spots in the islands.
Just as was mentioned a few years back in an article on Smart Destinations Blog, that was also titled "FREE WiFi in Hawaii", one of the first places you can experience FREE WiFi in Hawaii is upon arrival at Honolulu International Airport. Prior to December of 2010 there was only limited availability at Gate 13. I'm hoping that with a new Hawaii Governor in office who enjoys using the tools of the internet, such as social media, that more FREE WiFi hotspots in public places will eventually spring up everywhere.
On the island of Oahu there are several areas where you can tap into the FREE Wifi service Honolulu Hotzone, which is provided by the City & County of Honolulu Department of Information Technology, Kokua Wireless, and a group of generous local sponsors. Then in Waikiki there's the Waikiki Wireless Project that's provided as a FREE service by Shaka Net. In addition to these great WiFi FREEbies there is also a growing list of other FREE WiFi providers not only on Oahu and in Waikiki, but throughout the islands as well that can be found here: FREE WiFi. If that's still not enough to get your WiFi on then stop by a Starbucks anywhere throughout Hawaii and grab yourself a tall mocha and enjoy the FREE WiFi that is now available via a partnership with AT&T Nationwide. Several McDonalds throughout Hawaii also offer FREE WiFi through an AT&T partnership as well.
Finally for those who carry the amazingly smarter than smart iPhone, I highly recommend checking out Easy WiFi and downloading their FREE app that provides FREE access to the world's largest WiFi network – the Easy WiFi Network. They also provide downloads for Android, Mac OS X, Windows, and other mobile platforms. For businesses or others in Hawaii or even the world who want to benefit from the increased exposure and business of those stopping in and looking for FREE WiFi, I recommend for you the service Fon. Fon allows you to share a little bit of your WiFi at home or office, and get FREE roaming at Fon Spots worldwide in return. From what I can see, there is currently no Fon Spots in Hawaii…will you be the first? Fon also has a FREE app for iPhone users which provides a view of Fon spots worldwide.
Feel free to post a new FREE WiFi spot you may have discovered in your travels throughout Hawaii or post your business below and add it to the list of growing FREE WiFi providers throughout the islands.
Featured Photo Credit: Giorgio Montersino