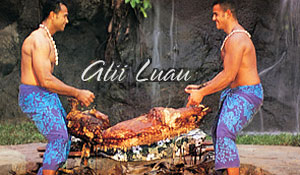 The Ali'i Luau is located at the Polynesian Cultural Center in Laie on Oahu's North Shore.
The Ali'i Luau is arguably the most authentic luau in Hawaii and includes seating to the Polynesian Cultural Center's new Ha: Breath of Life evening show which is a spectacle of over a hundred performers from across the Pacific, drums, dance, all new music and special effects, a fire spewing volcano and a world renowned fire knife performance. The story goes that born just after his parents wash ashore, Mana begins a South Pacific odyssey that leads to becoming a warrior. In the process, he must prove his worthiness to wed the fair Lani by walking on fire. And, ultimately, he must battle to protect his new family from marauding invaders.The tale is as old as the islands, and as new as each breath we take.
The Ali'i luau includes a pig ceremony where a large pua'a (Hawaiian for pig) is cooked in the imu and presented each day at the luau. The menu also includes:
Poi, the traditional Hawaiian staple. It is a starch dish made by pounding boiled taro roots and mixing with water until it reaches a smooth consistency. "Taro is one of the most nutritious starches on the planet," says Ambassador of Aloha Cousin Benny. Some Hawaiians eat their poi with salt, some with sugar, even soy sauce. Some like it thicker or thinner. Others like it several days old for a little extra tang; and malahini, or newcomers, might find it more to their liking at first if they eat it with a bite of the other meat dishes.
For those willing to try anything once, we offer poke, or raw fish marinated in lemon or lime juice with other condiments and a little coconut cream. Normally offered in the Hawaiian-style of raw fish with sea salt, seaweed and onions, we've chosen the more pleasing Tahitan preparation to introduce you to this island favorite. If you want the more Hawaiian-style version, you'll need to go a mom-and-pop local store, backyard luau or small Hawaiian restaurant to get a taste.
Lomilomi salmon. In Hawaiian, lomilomi means to massage, or in this case to break the salmon into small pieces, which are then mixed with tomatoes, onions, and other small condiments, giving it a delicious tangy taste that goes great with poi.This style of fish preparation was introduced to Hawaii by early western sailors.
Pipi kaula, or a seasoned beef jerky, harks back to the earliest days of western sailors who brought their salt beef aboard ship in barrels. In fact, on some of the South Pacific islands, you can still buy a barrel of salt beef.
Ali'i Luau – Polynesian Cultural Center
Other favorite Hawaiian dishes served at the Ali'i Luau include:
Though ancient Polynesians brought moa, or chickens, with them from the South Pacific a thousand years ago, Asian influences have livened up the taste with teriyaki chicken.
Asian tastes have also contributed another luau favorite: Chicken long rice. Sometimes called thread or bean noodles, they are boiled and served hot with pieces of chicken. Try it over a little white rice.
Filets of tasty, flakey white meat island fish that is deep-fried.
Dark purple Hawaiian sweet potatoes that have been mixed into a cold salad.
Taro rolls that have a distinctive purple color, derived from the taro flour used in the recipe. They are baked fresh daily at the Polynesian Cultural Center.
Other items on the Ali'i Luau menu include:
A variety of salads: tossed greens with carrots and tomatoes, spinach salad, sweet potato salad, and cucumber-carrot salad. Each is served with your choice of ranch, papaya seed, and thousand island dressings.
Cold fruits: ripe pineapple spears, of course; and watermelon (in season).
Beverages (all decaffeinated): Diet Pepsi™, Root Beer, Sprite™, Fruit Punch, Passion-Orange-Guava, Coffee, Herbal Teas. Caffeinated coffee and Coca-cola™ are available upon request. Alcohol is not served at the Polynesian Cultural Center.
Even the dessert table offers delightful Hawaiian treats, including:
Haupia (sweet custard cubes made with rich coconut cream), coconut cake, and chocolate cake.
Visitors will also enjoy live music from our band and couples celebrating their wedding or anniversaries are invited up to the stage to dance while the Polynesian Cultural Center musicians play The Hawaiian Wedding Song.