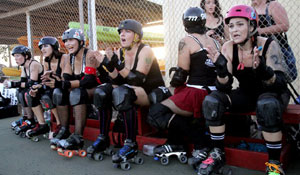 Pacific Roller Derby invites fans to witness a smorgasbord of rollergirls dressed as Cavegirls and Ravegirls in a colorful scrimmage in the 'cage' at the USCG Hideaway Club at Barber's Point at 4pm this Saturday, May 14. The league's veteran skaters welcome the newest derby girls as they make their debut on the flat-track. Adair Ya-To!, Lil' Red Righthook, Charm School Her, Prett E. Solid, Miss Behavin', Kuchi, Ghostface Killer, Loonatic Loocy, CrackHer Jackie, Total Jen-o-cide, and Megan Havoc are the latest rollergirls to successfully pass the minimum skills tests as required by the Women's Flat Track Derby Association, the international governing sports body for women's flat track-roller derby. Interested men and women are encouraged to contact the league to learn about on-going training opportunities to join Oahu's roller derby 'ohana as a rollergirl, referee, non skating official, or volunteer.
Fans are invited to dress in costume to support their team of choice, and are encouraged to bring a change of clothes for the post-bout slip and slide races. For a door charge of $7 for the general public ($5 with valid military ID), fans can look forward to live roller derby, snacks and a bake sale, live music and the opportunity to join the derby girls in an afternoon of fan-appreciation field day games, relays, and races after the on skates action. All funds raised support Pacific Roller Derby's efforts to purchase a sport court so they can find an indoor venue to call home, and the organization's operating expenses. Pacific's Hideaway scrimmages are family friendly events through 8pm when it becomes an 18+ event. Doors open at 3:30pm and the first whistle blows promptly at 4pm at the caged tennis courts at the USCG Air Station's Hideaway Bar, at 1 Coral Sea Street. Fans without a military ID must RSVP at www.pacificrollerderby.com by 5pm on Friday, May 13, for entry onto the base, or must be sponsored by a military ID holder. For further questions and inquiries, and to learn more about the Pacific Roller Derby or how to become involved with Oahu's premier roller derby league, fans are encouraged to visit www.pacificrollerderby.com.
ABOUT PACIFIC ROLLER DERBY:
In 2008, Pacific Roller Derby (Pacific) brought the excitement of roller derby back to Honolulu, Hawaii. The all female flat-track roller derby league has showed fans what it means to push one's self to their highest potential and form a strong community around one of the world's fastest growing female dominated sports. As members of this league we continue to keep the enthusiasm alive and spread the derby love. In 2009, Pacific became a member of the Women's Flat Track Derby Association (WFTDA). WFTDA promotes and fosters the sport of women's flat-track derby by developing athletic ability, sportswomanship, and goodwill among member leagues. Pacific is excited to learn about local sponsorship opportunities and about local venues to call home for their on-skates events so they may continue to spread roller derby's popularity around the island. For more information, visit www.pacificrollerderby.com.
Feature Photo: Courtesy of Pacific Roller Derby
Photo Credit: Eric Alcantara 2011 Caption: Pacific's rollergirls cheer on their teammates at the Mods vs. Rockers Scrimmage in March