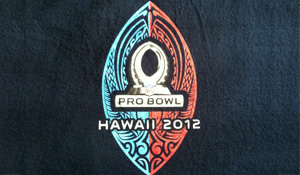 Today was the first-ever NFL Pro Bowl practice session held on a military base. Joint Base Pearl Harbor Hickam (JBPHH) Morale, Welfare and Recreation (MWR) hosted the NFL Pro Bowl practice for both the AFC and NFC which allowed military affiliated personnel and their families who had base access to enjoy a day of fun with the NFL superstars as they showed off their skills and appreciation for our men and women in uniform.
Highlights of the day were the massive autograph sessions along the sidelines and the warm welcome the NFL players received from the military fans. The NFL along with their official military appreciation sponsor, USAA, came together to prepare Earhart Field on the Hickam AFB side of JBPHH to demonstrate their appreciation for the military and bring the NFL closer to those who serve. USAA also provided complementary food and refreshments in support of the military fans.

Chicago Bears #33 CB Charles Tillman Giving a Serviceman An Autograph
Photo Credit: (808Talk)
2012 NFL Pro Bowl Military Appreciation
Slideshow Credit: (808Talk)
Hats off to a well put together event by the NFL, USAA, and the JBPHH Morale, Welfare and Recreation department.