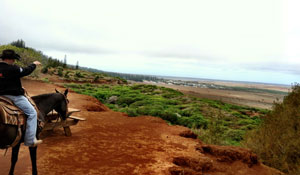 Horseback riding, a new found love of mine, is not something I can say I am very experienced in, but when it comes to feeling comfortable while enjoying nature and an amazing view at the same time, horseback riding sure is a winner for me.
During my recent (and first) trip to the beautiful island of Lana'i, I was able to experience some of the best scenery and amazing openness of the outdoors that the island has to offer via horseback adventure with Hawaii Western Adventures at The Stables at Koele. Being the early riser that I am, I opted for the 9am adventure which allowed me to experience the early-day cool air and some enjoyable encounters with wild deer that highlighted my experience with nature.
Saddle Up!
Photo Credit: 808Talk
During our horseback adventure, our guide (Cody Bradford) from the stables was of great assistance in explaining what we were seeing on the trails and also shared with us great vantage points of the majestic views across the open plains of Lana'i, and explained the story of the island, it's history, and even the origins of the Hawaiian cowboy (paniolo).
Lana'i View By Horseback
Photo Credit: 808Talk
Our total horseback riding experience was about 2 hours and opened up to reveal not only views of Lana'i, some of which can only be seen by horseback, but also distant breathtaking views of Molokaʻi and Maui. In addition to horseback riding, Hawaii Western Adventures offers sporting clays, UTV rides, horse-drawn carriage rides, archery, and even custom adventures suited to fit your personal adventure level. Whether you're Kama'aina from another island, or tourist visiting from another part of the world, be sure and relax, take in the fresh air, and enjoy a truly scenic and peaceful horseback ride on the island of Lana'i.
View more pics from my Visit Lana'i 2012 adventure: Views from Lana'i